The Bobby Byrd Band
(with the opening act, Manchild)
At Tramps, NYC - 9/18/98
<![if !supportEmptyParas]> <![endif]>
---
<![if !supportEmptyParas]> <![endif]>
At 9:15pm, Manchild took the stage. This is the same 1970's group that featured the future songwriter/singer/producer giant Kenneth Edmonds (better known as Babyface).
<![if !supportEmptyParas]> <![endif]>
To be honest, I wasn't impressed with their performance when they opened for Bernie Worrell & The WOO Warriors on May 10, 1997.....but this performance was very good! The group did a rendition of The Artist's "Days of Wild", which was interesting, but definitely nowhere near the funkiness of The Artist!! They also performed a more-breathtaking version of Graham Central Station's "Can't Stand The Rain".....the female vocalist sounded & looked so good......she resembles the woman who plays Regina Greer on the WB's "Steve Harvey Show"!!! The bass and guitar licks were tight during this set! To end their set, Manchild performed two oldies "Ain't We Funky Now" and "Standing on Shaky Ground" (originally by The Temptations).
The Manchild set ended at 10:15pm.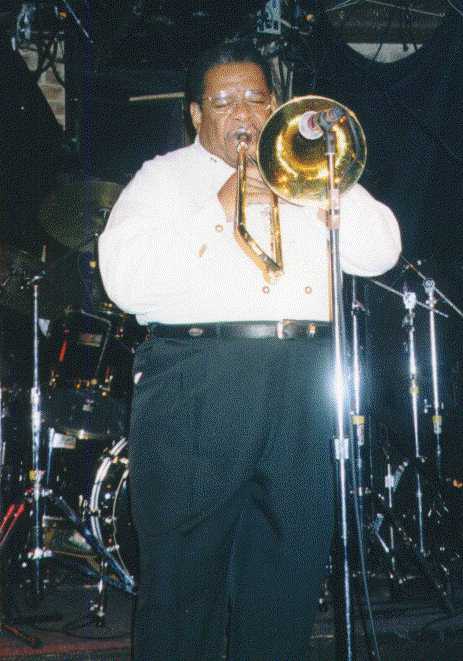 Fred Wesley, funky trombonist extraordinaire!
<![if !supportLineBreakNewLine]>
<![endif]>
It was a long wait until the Bobby Byrd Band appeared onstage at 11:00pm.The band performed Earth, Wind & Fire's "Love's Holiday" and Ray Charles's "Georgia on My Mind". At 11:25pm, the funky trombonist himself, Mr. Fred Wesley, came out to sing a little and play his funky horn. Fred had the audience singing to "Doin' It To Death", "Pass The Peas" and "House Party". GIVE ME THOSE FUNKY HORNS!! It was nice to see Fred Wesley (or should I say "Friendly Fred") up-close. Maceo should have been there......that definitely would have been a treat!!
<![if !supportEmptyParas]> <![endif]>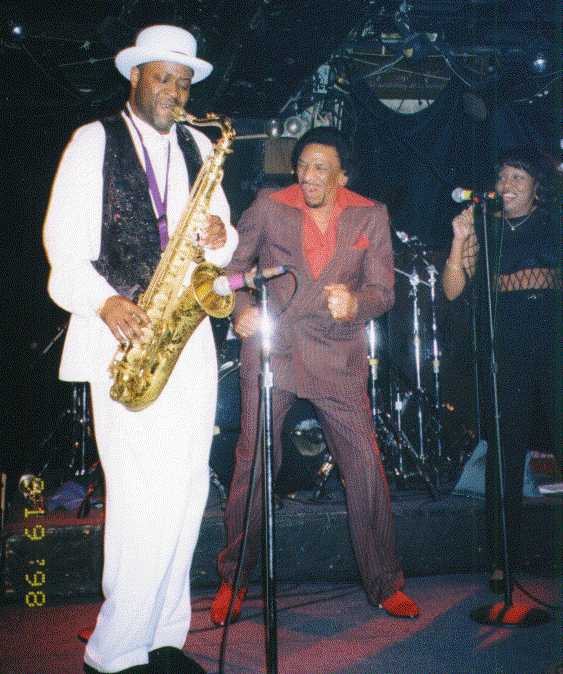 Bobby Byrd (in the middle), jamming with the funky band!
<![if !supportLineBreakNewLine]>
<![endif]>
The funky divas (Lyn Collins, Marva Whitney & Vicki Anderson) came out at 11:55pm. Lyn sang her funky song "Think (About It)", and the girls later did the Graham Central Station tune "Can't Stand The Rain". Everything was good......then....Bobby Byrd came out at 12:15am and performed some of his tunes. He mentioned that he had a new CD coming out shortly, and he performed a lovely ballad from that CD, entitled "Tell Me What's on Your Mind". He gave the audience a real good treat with the hot tune "I Need Help (I Can't Do It Alone)", but the best song was the funky-as-hell "Get on Up, Get Into It, Get Involved"!!!!! DAMN!!!! FUNKY STUFF FOR THE MAN WHO WAS THE SIDEMAN OF JAMES BROWN!!! He ended with a great version of "Get Up (I Feel Like Bein' a Sex Machine)".....he even played the keyboards for this tune!!
<![if !supportEmptyParas]> <![endif]>
THE FUNK ENDED AT 1:30AM!!

<![if !supportLineBreakNewLine]>
<![endif]>

<![if !supportLineBreakNewLine]>
<![endif]>
<![if !supportEmptyParas]> <![endif]>
---

Submit suggestions or comments to david.brooks@brookenstein.com