BOMB SQUAD (w/ Jen Durkin)
At Shenanigan's - South Norwalk, CT (3/28/02)
<![if !supportEmptyParas]> <![endif]>
---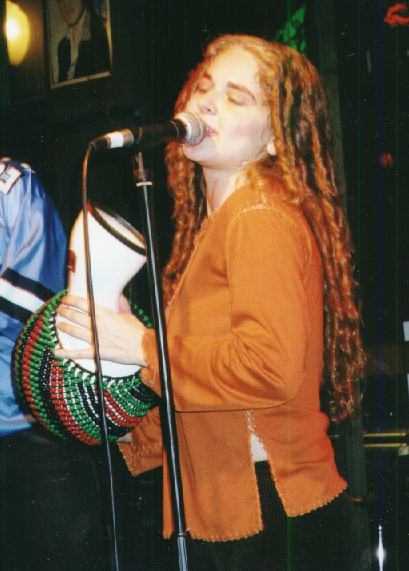 The girl who loves to "start some shit!", Jen Durkin!!



<![if !supportLineBreakNewLine]>
<![endif]>
At 10:00pm, the Bomb Squad detonated with some "Ready to Ride".....featuring the funky vocals of Jen Durkin (who is a card-carrying member of Bernie Worrell's WOO Warriors)!! it was funky with some standout funk rhythm guitar & tight horns.....enough to remind you of a former Jen Durkin project.....(Deep Banana Blackout)!!! By the way, Jen Durkin's vocals were wonderful! The wah-wah funk guitar-wailing was da bomb on "Dance to the Music"! "Family Groove" may have been a New Orleans-style groove, but no one could resist "Gemini", with the skillful percussion work and funky guitar lines!! "Lickin' Stick" was a good cover of a JB original, and "Love Hangover" was miles better than the Diana Ross original......it was done to a funky, faster rhythm with some heavy bass and funky scratch guitar riffs!! "Keep on Movin'" and "True Thang" were very good, but better was the cover version of Tower of Power's "What is Hip?".....the horn riffs were definitely "on the money" with the original recording and the funk energy was lethally high!! The people in Shenanigan's were definitely grooving to this high blast of funk energy!!! "Come On, Come Over" ended the first set at 10:50pm.
<![if !supportEmptyParas]> <![endif]>
The second detonation by the Bomb Squad began at 11:20pm with some good ole JB stuff called "Sex Machine".......it got those that were sitting up on their asses and jammin'! "Sophistafunk" showcased Jen's ability to "start some shit!" "Boogie on Reggae Woman" was a great slice of old-time funk, originally by Stevie Wonder! The bass riffs were slammin' and the horns were tight! "What You See..." is a great example of some Latin-influenced funk stuff with some excellent vocals by Jen Durkin and some great percussion......the song itself would "lift your soul with its magic touch"!! "Hey Good Lookin'" featured some good drumming & funky guitar riffs! "Pass the Peas" (another JB jam), "I Want You Back" (originally by the Jackson 5) and "Rock Steady" (originally by Aretha Franklin) were all great covers, especially with the super-funky bass on "Rock Steady"!!
Before I forget, now-frontwoman of Deep Banana Blackout, Hope Clayborne, guest-starred on saxophone for "Sophistafunk" and "Rock Steady"!!
"Ready to Ride" was performed again, followed by "Find Another Love", a slower-paced ballad. "Shakey Ground" was the last song and it shook the ground of Shenanigan's like an "7.0 magnitude earthquake"......the bass and guitar lines were super-funky (or sophistafunky)!!!! The second set ended at 12:25am.
<![if !supportEmptyParas]> <![endif]>

<![if !supportLineBreakNewLine]>
<![endif]>
<![if !supportEmptyParas]> <![endif]>
---


Submit suggestions or comments to david.brooks@brookenstein.com