Bootsy Collins appearance
(with a performance by Funk-Kin)
At Tramps in New York City - 11/17/98
<![if !supportEmptyParas]> <![endif]>
---
<![if !supportEmptyParas]> <![endif]>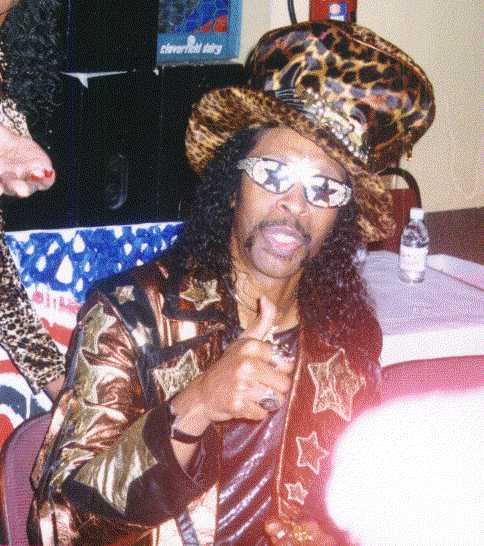 I rushed to New York City from Philadelphia, arriving at 6:00pm. After stopping at a Burger King for a few minutes, I finally made it to Tramps. On this night, the most legendary event occurred.....the Bootsy Collins autograph signing and CD listening party for Bootsy's US release of "Fresh Outta P University"!!!! When I arrived at 6:30pm, I was amazed to find about eight people in line.....for a FREE show with Bootsy appearing for autographs, I'd expect to see a long line forming!!
<![if !supportEmptyParas]> <![endif]>
Around 7:15pm, Bootsy emerged from nowhere and all the Rubber fans were really quick to cop a glimpse of "Starr-Mon"!!
<![if !supportEmptyParas]> <![endif]>
The doors opened at 7:30pm and there was a LONG delay before the event finally occurred at 8:50pm. A rapper introduced Bootsy, who walked into the pit area in front of the stage and enticed the audience! People rushed to the pit area to touch and shake hands with "Casper"! I couldn't get any pictures because of the frantic mob!! People started crowding around the entrance to the VIP section of the club.
<![if !supportEmptyParas]> <![endif]>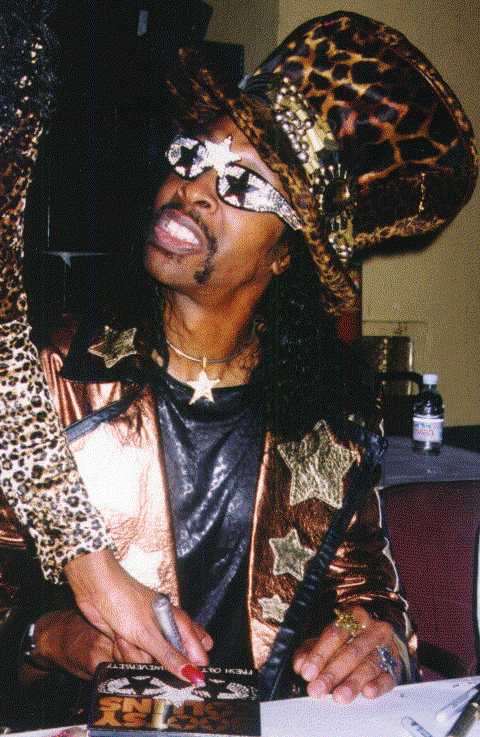 It took me about 1 hour and 20 minutes to finally get aonce-in-a-lifetime chance to meet Bootsy, and have him autograph my copyof the PLAYER OF THE YEAR album!! YYYYYEEEESSSSS!!!!!!!!!!!!!!! I alsotook some pictures of the starr-eyed musician, and I had a nicegentleman take pictures of me with Bootsy!!! OH YEAH, BABA!!!!!! Iwasn't even thinking about the funk group FUNK-KIN, who was performingwhile some Rubber fans were still getting their autographs.
<![if !supportEmptyParas]> <![endif]>
By the way, what idiot decided to have the autograph signing in the VIP section, where 200 people had to crowd around the entrance, pushing & shoving each other just to get closer to "Casper"? The staff at Tramps should have taken notes when Tower Records (in Midtown Manhattan) had the George Clinton autograph signing in October 1997. Everyone stood in a single line outside Tower Records and people entered twenty at a time.....that was more efficient!!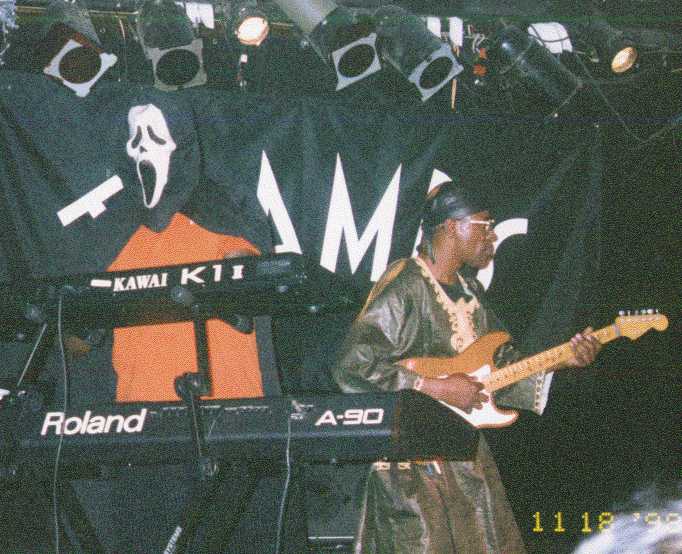 FUNK-KIN: Donald Banks & Charlie Rivers
<![if !supportLineBreakNewLine]>
<![endif]>
Funk-Kin started playing at 10:15pm. They performed a real funky version of Funkadelic's "Super Stupid". They impressed the hell out of me with their versions of "Stretchin' Out in a Rubber Band" and "The Pinocchio Theory".....Bootsy must have been "all-smiles" during the ultra-funky performance dedicated to him!! They did a funky LONG intro to "The Goose", followed by "The Goose" itself! It was sprinkled with a little taste of "Party Up in Here". "Up For The Down Stroke" and "Funky Stickup" were great, and they performed three variations of the song "The Funk Done Gone Hip-Hop". Their set ended around 11:30pm.
<![if !supportEmptyParas]> <![endif]>
P-Funk guests in the audience included the friendly clown Ronald P. Edwards (a/k/a Stozo), P-Funk's crazy fool Michael "Clip" Payne, and lethal-funk guitarist Mike "Kidd Funkadelic" Hampton.
<![if !supportEmptyParas]> <![endif]>
<![if !supportEmptyParas]> <![endif]>
---


Submit suggestions or comments to david.brooks@brookenstein.com