Carlton J. Smith's FUNK Tribute(honoring P-FUNK, JAMES BROWN and SLY STONE)
At B.B. King's Blues - NYC (11/22/04)
<![if !supportEmptyParas]> <![endif]>
---
<![if !supportEmptyParas]> <![endif]>


Carlton J. Smith watches a funk fan get down!
<![if !supportLineBreakNewLine]>
<![endif]>
At 8:00pm, Carlton J. Smith and his merry band of funkateers began to work the audiencewith a nice rendition of "Knee Deep"...YES, THIS WAS THE P-FUNK PORTION OF THE SHOW!!"Bop Gun" and "Tear the Roof Off the Sucka" were pretty good, but the moment was when Carlton pulled Dr. Brookenstein to the stage (dressed in a red wig and a red pimp hat)...yeah, it was time for the Dr. to go to work as he was doing backing vocals with five othervocalists, including the one and only L.A.W. "Dr. Funkenstein" was good but one of the besthighlights was the inclusion of Rick James's "Super Freak", Bootsy's "Wind Me Up"chant, and the Ohio Players's "Fire" which included some great lead vocals by Carltonand L.A.W.!! "One Nation Under a Groove" was cool, but the second highlight "Flashlight" wasDA BOMB, with L.A.W. setting B.B. King's afire with some great lead vocals and a nasty,funky guitar solo!!! (DAMN, L.A.W. surprised the hell out of me!) The P-FUNK set was overat 8:50pm.


PICTURES OF SPANK AND HIS BAND:


<![if !supportLineBreakNewLine]>
<![endif]>
At 9:00pm, friends of the Carlton J. Smith Band, led by lead vocalist SPANK, started theirSLY STONE set with some Sly stuff, including "Everyday People" which featured somesoulful lead vocals by a beautiful woman in a large blonde Afro! Carlton J. Smith led hisassistance in getting the fans to participate in the "Everyday People" song. (BY THE WAY,WHAT IS UP WITH ALL OF THE TABLES AT THE FRONT OF THE CLUB??? YOU COULDN'T DANCETO THE MUSIC!!! TABLES ARE FOR JAZZ SHOWS, **NOT** FUNK SHOWS!) Some whitefolks shied away from participation in the next song, "Don't Call Me Nigger, Whitey"...andfor good reason!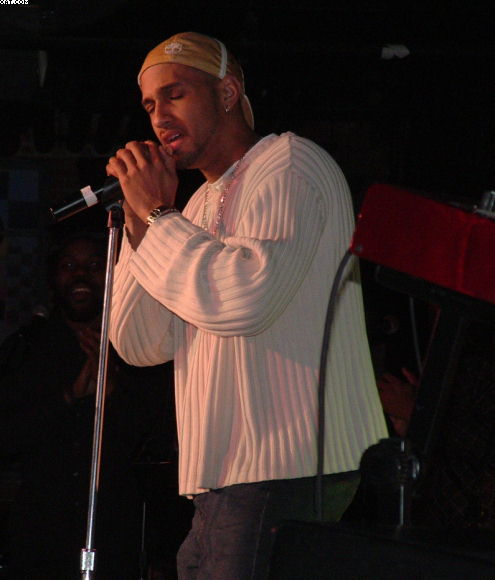 Andrew, singer and rapper!


A Stevie Wonder moment was inspired by a fan in the audience whocan actually sing....his name was Andrew and he did an one-minute performance of"Superstition" (of course, with the assistance of the band)!! "Dance to the Music" wasCarlton's choice to direct each musician to give his all in the solo spots! "Thank You(Falletinme Be Mice Elf Agin)" featured some funky clavinet riffs! The SLY STONE set wasover at 9:55pm.
<![if !supportEmptyParas]> <![endif]>
At 10:05pm, it was STAR TIME....time for the JB-FUNK (JAMES BROWN FUNK). Carltonbegan his JB set (and I was reflecting on his spirited portrayal of James Brown in thefilm "Liberty Heights") with "Papa's Got a Brand New Bag". He brought two people tothe stage to attempt some JB dancing...and both couldn't do it (the first personDEFINITELY wasn't on point)...maybe Dr. Brookenstein could have done better (I'll askhim). "Say It Loud, I'm Black and I'm Proud" and "Super Bad" were good, especially thelatter with Carlton's JB dance-isms!! "Try Me" featured a female vocalist who hadthe voice to carry off such a classic tune! "Doin' It to Death" was followed by"Payback" (featuring rapping by Andrew) and "Sex Machine" (featuring some greatrhythm guitaring by L.A.W.)! "Get on the Good Foot" was followed by .... a SLY STONEsong "I Want to Take You Higher", a funky detour with the band members musically throwingdown hard and SPANK on additional vocals!! P-FUNK's "Knee Deep" ended the entire nightof funk tributes to the P, JB and SLY at 10:45pm.

<![if !supportLineBreakNewLine]>
<![endif]>
<![if !supportEmptyParas]> <![endif]>
---


Submit suggestions or comments to david.brooks@brookenstein.com