CLASSIC HARMONY
At the North by Northwest - Philly (1/28/06)
<![if !supportEmptyParas]> <![endif]>
---


The vocalists: James, Special K and Benny!
<![if !supportLineBreakNewLine]>
<![endif]>
I arrived late at 10:45pm to check Classic Harmony at North by Northwest....they were performing "Soul Man" amidst a good-sized crowd of folks who didn't mind a little "call-and-response" of "Soul Man". "Mustang Sally" (a Wilson Pickett original) featured good lead vocals by James. Classic Harmony performed a couple of other hits before going into Gladys Knight & the Pips's "I Heard It Through the Grapevine", featuring some great lead vocals by Special K (whose vocal stylings, in my opinion, reminds me of Stephanie Mills)....the band was seriously jumping on this one....the drumming was tight and the bass & guitar riffs were red-hot! The first set ended at 11:15pm.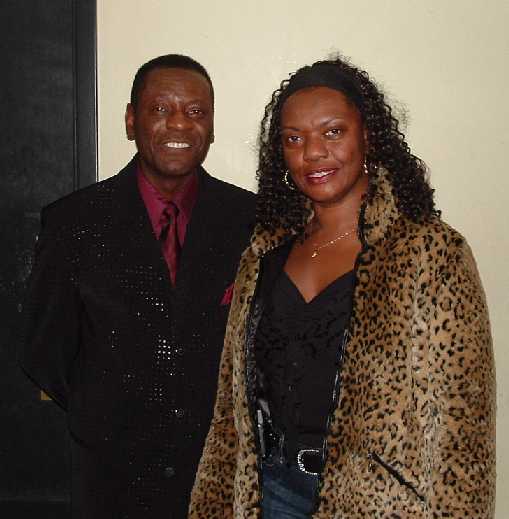 Benny poses with a fan!


The second set began at 11:35pm with the Jackie Wilson hit "Your Love Keeps Lifting Me Higher" (featuring great vocals by James, Benny and Special K), followed Special K's strong vocal performance on the Aretha Franklin hit "Respect"... personally, I think that she needed some strong, female background vocalists to make the song sound a lot better. Kool & the Gang's "Celebration" sounded great with some of that strong rhythm guitaring. "How About Us" (originally by Champagne) was good, but "Beat You to the Punch" was a little better...mellow R&B with some standout organ riffs. Gladys Knight & the Pips's "Neither One of Us" was followed by Luther Vandross's "Bad Boy/Having a Party", a R&B jam that finally got most of the fans on their feet. The people were still jammin' on LTD hit "Everytime I Turn Around (Back in Love Again)", a song featured some funky jamming on the rhythm guitar and bass....and riffs from the lone trumpet! Benny was performing a song (don't know the name of it) where he was getting one woman .... uh, let's say...a little wet! Teddy Pendergrass's "Get Up, Get Down, Get Funky, Get Loose" was the powerful funky ending to the second set, with some strong trumpet blowing and jamming from the rest of the musicians! It was over at 12:40am.

<![if !supportLineBreakNewLine]>
<![endif]>
<![if !supportEmptyParas]> <![endif]>
---


Submit suggestions or comments to david.brooks@brookenstein.com