CLONES OF FUNK: THE JAMES BROWN TRIBUTE
At Zanzibar on the Waterfront - Washington, DC (1/5/07)
<![if !supportEmptyParas]> <![endif]>
---


JB drummer Mousey with Clones bassist Terre Holland!!
<![if !supportLineBreakNewLine]>
<![endif]>
At 9:25pm, the Clones of Funk began their tribute show to James Brown, against a backdrop of archived footage on the legend's music career (I think that the footage is currently available on DVD). The first song was the super-funky "Soul Power", followed by a hefty serving of "Pass the Peas" with solos performed excellently by the JB-style horns of Mike Powell (on trumpet), Jerry Queene (on sax) and John (on trombone)!!! "Up For the Down Stroke/I Can Move You (If You Let Me)" featured some great funky clavinet work by Gene McBride!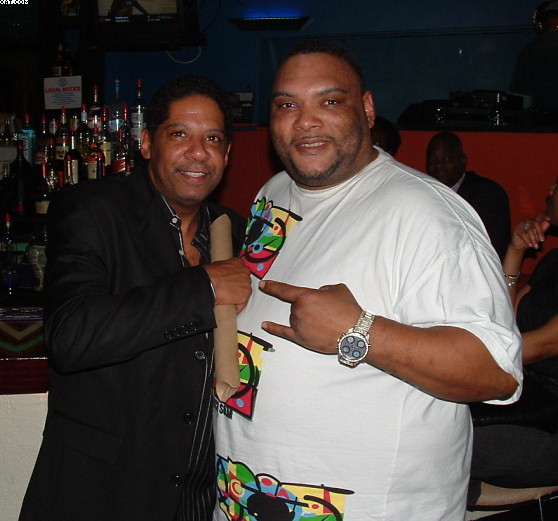 JB drummer Mousey with Clones drummer Mark Brown!!


Special guest Mousey (drummer from James Brown's band) dropped by to say a few words about the legendary JB and played drums on the old JB ballad "Try Me"...YES, Mousey performed "Try Me" with the Clones of Funk...Scrape did a very good job as the lead vocalist along with backing vocals by Wesley Beann and Gene... unfortunately, the horns missed the mark as far as the ending of the song (they started out note-for-note like the original, but went a different direction). No problem because Mike tore the roof off the sucka with some of the hottest trumpet blowing ever heard on "Aqua Boogie"! "Cosmic Slop" was guitarist Hot Rod's moment to shine on some six-alarm blazing lead guitarisms! "Flashlight" featured some good standout basswork by Terre Holland! Unfortunately, the show ended too soon at 10:25pm.





JB drummer Mousey with Dr. Brookenstein!!

<![if !supportLineBreakNewLine]>
<![endif]>
<![if !supportEmptyParas]> <![endif]>
---


Submit suggestions or comments to david.brooks@brookenstein.com