CLONES OF FUNK, GRILLED & INVISIBLE NETWORK NEWZ
At the Nairobi Lounge in Elks Lodge - Freehold, NJ (2/18/06)
<![if !supportEmptyParas]> <![endif]>
---
<![if !supportEmptyParas]> <![endif]>


Joe Keyes with the minister


Since I didn't write a lot of stuff down and my memory is just about shot, here are some highlights from the show:
The show began at 9:15pm. This was a performance by the Clones of Funk, joined by members of Grilled and Invisible Network Newz. The funk was strong...killimeter-millimeter longer as evident on Grilled's "You Can't Stop Us Now", featuring some lead vocals by Joe Keyes. Joe Keyes spent part of the show spewing out P-funkisms like " you have the power to negate any wrong, ill-causing feelings that prohibit you to think" (from "If You Don't Like The Effects, Don't Produce The Cause"). "March to the Witch's Castle" sounded good, with the exceptional lead guitar riffing. "Cosmic Slop" was a definite crowd-pleaser and featured the blazing guitar skills of Mr. Famous himself, Michael "Kidd Funkadelic" Hampton!! The first set was over at 11:00pm.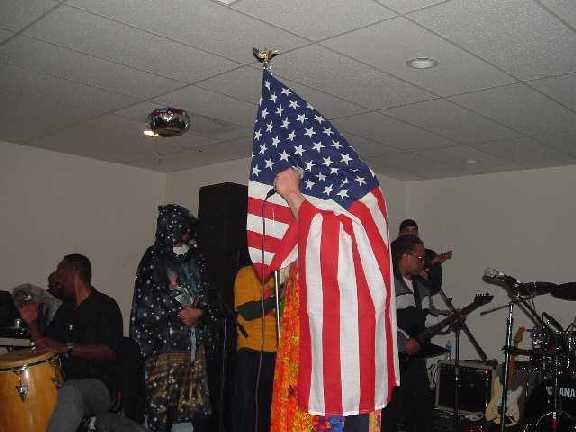 Joe Keyes says "And the flag was still there, waving on while we dance!"
<![if !supportLineBreakNewLine]>
<![endif]>




Andy Lassalle with Kidd Funkadelic!
<![if !supportLineBreakNewLine]>
<![endif]>
At 12:15am, the second set began with some "Maggot Brain", featuring the slimmer Andre (Andy) Lassalle on lead guitar.....the boy tore it up, but one has to wonder: WHY WASN'T KIDD FUNKADELIC PLAYING LEAD ON THIS ONE? IT'S HIS SIGNATURE SONG (well, since Eddie Hazel pass the baton to him). "Let's Take It to the Stage featured some of the lyrics from "Take Your Dead Ass Home"....the rhythm guitar riffing was killin' (was that guitarist Hot Rod?) "Undisco Kidd" was followed by "The Goose". "Red Hot Momma" was red-hot featuring lead vocals by Joe Keyes and Wesley Beann. The guys was doing call-n-response with the audience, having people sing a line from "Slingshot". "Up For the Down Stroke/I Can Move You (If You Let Me)" was good. "Flashlight" was the jam with the heavy thumpin' bass of Terre Holland and strong horn blowing by trumpeteer Mike Powell and saxophonist Jerry Queene. "Trash-A-Go-Go" was the ending to the show featuring the Clones of Funk chant dedicated to Eddie Hazel: "Game, Dames and Guitar Thangs....." (I wish I could remember the rest). The second set was over at 1:45am.

<![if !supportLineBreakNewLine]>
<![endif]>
<![if !supportEmptyParas]> <![endif]>
---


Submit suggestions or comments to david.brooks@brookenstein.com