CLONES OF FUNK
At MJ Meeting Place - Capitol Heights, MD (4/2/05)
<![if !supportEmptyParas]> <![endif]>
---
<![if !supportEmptyParas]> <![endif]>


A dark collage of The Clones of Funk's Jerry Queene (with the flashing spike ball) & Terre Holland!
<![if !supportLineBreakNewLine]>
<![endif]>
At 11:45pm, the Clones of Funk jumped into the funk of the horn riff "Disco-To-Go" (except the horns...especially the trumpet...were not in sync with the rest of the musicians). That riff led into the Bootsy classic "Aah....The Name is Bootsy, Baby" featuring the sticky funk bass of Mr. Terre Holland! "Theme From the Black Hole" was the horn players's (Mike Powell and Jerry Queene) spot to redeem themselves in some tight playing...the group threw in some music of James Brown's "Get on the Good Foot"...of course, nothing beats the vocal stylings of Wesley Beann and Scrape! And yes I did hear guitarist Hot Rod (who is back with the Clones!!) playing something similar to the rhythm guitar funk of "Let's Take It to The Stage"!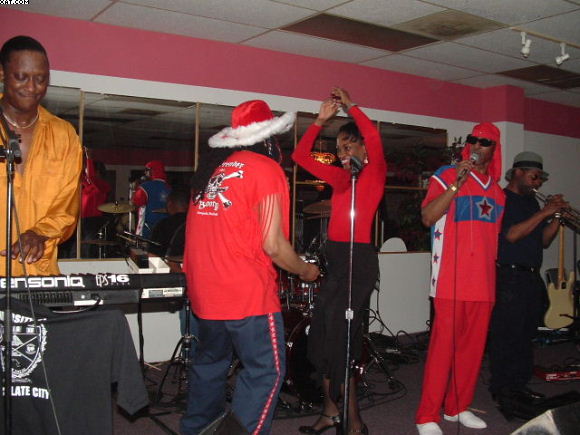 THE CLONES OF FUNK, featuring a female fan!!


"Red Hot Momma" featured a scorching lead guitar solo by Hot Rod! "Undisco Kidd" was followed by the medley of "P-Funk (Wants to Get Funked Up)/Mothership Connection (Starchild)" featuring the stankalicious synthesizer riffs of the Insane Gene McBride! "Tear the Roof Off The Sucka" ended the first set at 1:00am.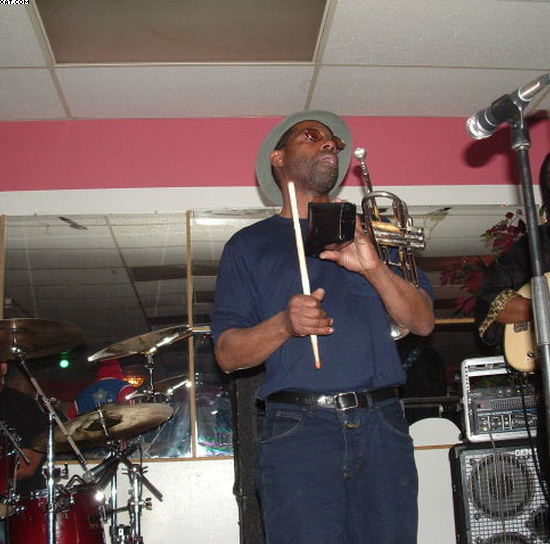 Trumpeteer Mike Powell playing the cowbell!


At 1:30am, the second SHORT set began with some "Up For The Down Stroke" featuring Hot Rod's funky scratch guitar riffs...the song featured "I Can Move You (If You Let Me)", the famous "I wanna funk with you......" chant from "The Pinoccho Theory", and the ending "There's gonna be a party for days...playing when the player plays" chant from "Hollywood Squares". Funky drummer Mark Brown kicked out the 1973 classic "Cosmic Slop", featuring more red-hot guitar fire by Hot Rod! "One Nation Under a Groove" was followed by a relatively short version of "Dr. Funkenstein". The show was over at 1:55am.

<![if !supportLineBreakNewLine]>
<![endif]>
<![if !supportEmptyParas]> <![endif]>
---


Submit suggestions or comments to david.brooks@brookenstein.com