CLONES OF FUNK
At the Cardinal's Nest - Washington, DC (5/31/08)
<![if !supportEmptyParas]> <![endif]>
---
<![if !supportEmptyParas]> <![endif]>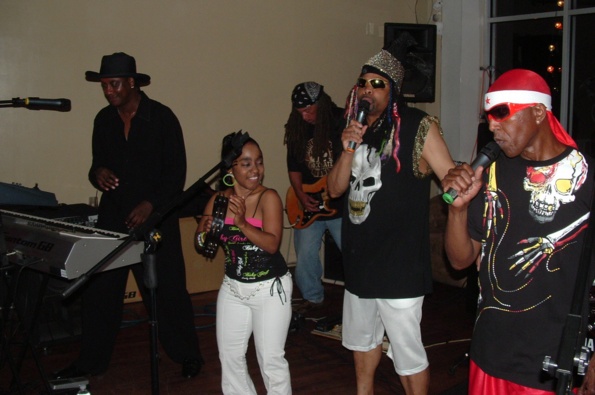 Gene McBride, Baby Clone, Rod Hot, Wesley Beann & Scrape!
<![if !supportLineBreakNewLine]>
<![endif]>
At 10:30pm, it was time for the Mothership to land in Chocolate City....with the performance of "Funkentelechy" by the one and only P-Funk tribute band THE CLONES OF FUNK! The IN & OUT HORNS (saxman Jerry Queene and trumpeteer Mike Powell) sounded tight as a mug & the lead vocal stylings of Wesley Beann & Scrape were also on point! The funk fans were on the floor, shakin' their moneymakers to the funky soundz of "Bop Gun (Endangered Species)", "Gamin' on Ya" and "Red Hot Momma", which featured some nasty lead guitar riffing by Mr. Hot Rod!!! After a nice performance of "Undisco Kidd", the band jumped into the classic "Tear the Roof off the Sucka", which featured a great horn riff from Bootsy Collins's "Psychoticbumpschool" and some of the best drumming from Mark Brown. "Everything is on the One" was followed by the sleaze-funk of "The Goose" (sounding very close to the album version)! The medley "Up For the Down Stroke/I Can Move You (If You Let Me)" was the ending to the first set....the first set was over at 11:40pm. BY THE WAY, THE CLONES OF FUNK TOOK THE TIME TO PRESENT A PLAQUE TO THE MOTHER OF A "CLONE" WHO PASSED AWAY SOMETIME LAST YEAR.....THE CLONE WAS CLARENCE "BOOLAH" ROPER!






"The Funk Lady", Clones of Funk manager, Debbie Wood!
<![if !supportLineBreakNewLine]>
<![endif]>
At 12:10am, The Clones of Funk returned to the stage with the slammin' "Standing on the Verge of Gettin' It On", incorporating a little bit of "Pumpin' It Up". "P-Funk (Wants to Get Funked Up)" was good, but better was "Mothership Connection" with a reggae-style breakdown during the middle of the song (featuring keyboardist Gene McBride on reggae-style vocals) and some NASTY HARDCORE ROCK GUITAR ROMPS (sounding like "Lunchmeataphobia")...THANKS, HOT ROD!!! The bass riffs hypnotized the audience on "Cosmic Slop", courtesy of one Terre Holland.....and let's not forget the shredding lead guitarisms by Hot Rod!!! NOW....IT WAS TIME FOR THE CLONES OF FUNK TO DO A COUPLE OF ORIGINAL SONGS....which they did (BY THE WAY, both songs were available for sale at the show)...."The Funky Ones" sounded like a Parliament track, featuring funky group vocals, hot trumpet/sax riffing, and a tasteful rhythm guitar line! "Dedicated to the P" sounded almost like an old Bootsy's Rubber Band-type track with more horny horn blowing and seriously spicy synthesizer riffing by Gene McBride! One criticism: I wish that the rock-style guitar was turned WAY UP during the bridge sections of the song ("People don't funk like they used to, they got too many issues...") "Flashlight" was the funky ending to the second set.... which ended at 1:40am.
<![if !supportEmptyParas]> <![endif]>
---


Submit suggestions or comments to david.brooks@brookenstein.com