CLONES OF FUNK
(EDDIE HAZEL TRIBUTE)
At the Ramshead Roadhouse - Annapolis, MD (7/16/05)
<![if !supportEmptyParas]> <![endif]>
---


Hot lead guitarist, Mike McHenry!! (THE BOY IS BADD!!!)
<![if !supportLineBreakNewLine]>
<![endif]>
The first CLONES OF FUNK set started at 10:10pm with an introduction/dedication to Eddie Hazel by Dr. Brookenstein. The dedication went something like this: "RAMSHEAD, how y'all doin'?! This is a show dedicated to the late, great Funkadelic guitarist Eddie Hazel, who was born in 1950 in Brooklyn, New York City. He later moved to Plainfield, New Jersey, where he was destined to meet up with the funk legend George Clinton. It was due to his presence with George Clinton and the Parliaments that he became an original member of Funkadelic. You may remember the guitar solo piece that made Eddie famous........MAGGOT BRAIN.....yes, that long, long guitar solo....this was before "Knee Deep", "One Nation Under a Groove", "Uncle Jam Wants You"...when Funkadelic was all about rock music....all about psychedelic rock and nothing else! The band you're going to see tonight [Clones of Funk] has been heavily, heavily influenced by Funkadelic. You got my man here on guitar....."Hot Rod"! You got this other guy on guitar.....this boy is badd! Mr. Mike McHenry!! OK. I wanna give me a quick shout-out to Ray Davis who passed away two weeks ago....I was at his funeral sometime earlier week. For those who don't know who Ray Davis is, Ray is famous for the intro to "Tear the Roof Off the Sucka"...Ray is also known for "Bow wow wow yippee yo yippe yay!" [sung in Ray's bass voice] from "Atomic Dog". Anyway, without further ado, please welcome Annapolis's best funk band....THE CLONES OF FUNK!"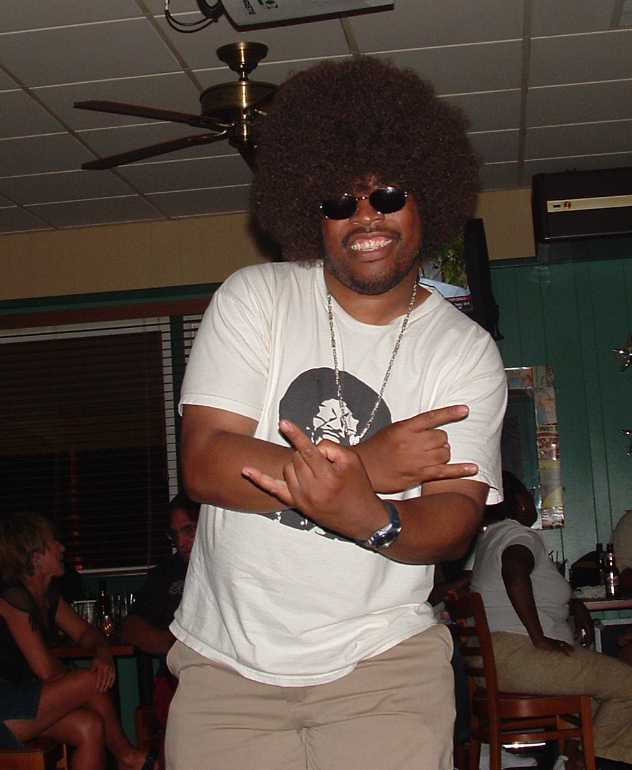 Dr. Brookenstein in a new dark-brown afro!!


It was on to "Alice in My Fantasies", a red-hot slammin' guitar rock piece that led into "Super Stupid". "Super Stupid" was great, thanks to the fiery, hardcore rock guitarisms of Hot Rod and Mike McHenry....especially the ending of the song. "Standing on the Verge of Gettin' It On" was followed by "You Can't Miss What You Can't Measure" featured the great vocals of Wesley Beann (handling G. Clinton & G. Shider parts) and Lamont "Scrape" Randall (handling Ray Davis's parts)....also needing much mention is the funky standout basswork of Terre Holland! "Stuffs and Things" featured Hot Rod's lead guitar fire, while "Red Hot Momma" featured the searing lead guitar riffing by Mike McHenry and some powerful drumming in the intro by Mark Brown! The band's rendition of "Maggot Brain" would have made Eddie Hazel smile from ear to ear....Mike and Hot Rod nearly burned down Ramshead Roadhouse with the white-hot intensity of the lead axe soloing!! "Trash-A-Go-Go" was a long, infectious bass and guitar grooves, while "One Nation Under a Groove" (played to satisfy some who wanted the pure funkier side of the P....this show was basically ALL hardcore Funkadelic rock stuff.....early Funkadelic!) featured some odorious bass lines! The first set was over at 11:25pm.




Clones of Funk's own FUNK LADY!
<![if !supportLineBreakNewLine]>
<![endif]>
At 12:00 midnight, "Butt-to-Butt Resuscitation" started with Mike McHenry playing the sinister-sounding synthesizer part (just after the chorus) before the band jumped into the actual song....it tasted so good, it make you wanna slap your mama (YEAH, BOY!!)! "Let's Take It to the People" was just as tasty, followed by the Clones of Funk favorite "Good to Your Earhole". "Comin' Round the Mountain" was followed by "Cholly (Funk Getting Ready to Roll)", featuring some vocals by guitarist Mike McHenry (Mike can sing pretty well). "Cosmic Slop" was guitar heaven as Mike and Hot Rod burned out speakers in the place playing some high-octane rock guitar stuff, with Hot Rod soaring above Mike's notes!! "Dog Star (Fly On)" was too much for funk fans like me, because the rock energy between guitar and bass EXACTLY match the energy on the P-Funk studio recording off the DOPE DOGS CD....seriously, the Clones can definitely George Clinton & the P-Funk Allstars a run for their money....if the Clones had twice as many instruments & vocalists!!! "Better By The Pound" turned into a long jam that included Slave's "Slide" (vocally performed by guest vocalist, Ronnie)...the bass riffing by Terre was super-funky and everybody in the place had to shake their groove thangs to the monster bass funk!! The jam included Mike McHenry playing percussion on the guitar by moving one hand OFF the neck of the guitar and holding down the strings at the same place where he would pick the strings. It was infectious enough that Terre did the same thing with the bass and it sounded like he was playing the congas! Then, it was off to Mike doing some "turntable scratch effect" (using his guitar pedals)...the band went into the groove of Herbie Hancock's "Rockit" with Mike imitating the synthesizer riffs and Mark imitating the electronic drum parts!! "Flashlight" (another song to satisfy those who wanted the pure funkier side of the P) was the last song that ended the second set at 1:30am.

<![if !supportLineBreakNewLine]>
<![endif]>
<![if !supportEmptyParas]> <![endif]>
---


Submit suggestions or comments to david.brooks@brookenstein.com