CLONES OF FUNK MOB REUNION
At the Salvation Army - Annapolis, MD (8/02/03)
<![if !supportEmptyParas]> <![endif]>
---
<![if !supportEmptyParas]> <![endif]>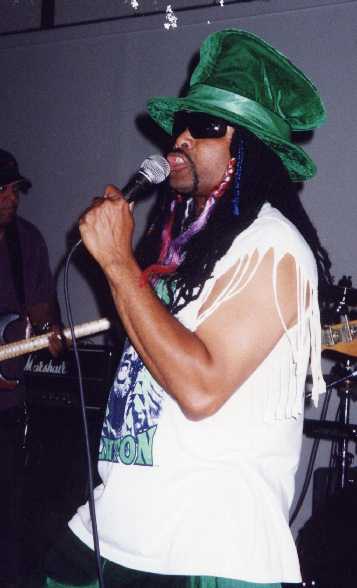 The Clones of Funk Supreme Vocalist, Wesley Beann!!!


At 11:40pm (after a hour of some funky music from another local funk band), the Clones of Funk started their Reunion Funk Mob show with some "Gamin' on Ya", featuring the superbad spicy keyboardisms of Gene McBride (original Clone)! "Up For the Down Stroke/I Can Move You If You Let Me" was followed by the hardcore, shake-your-rump-to-the-funk grooves of "Good to Your Earhole", featuring the powerful drumming of Mark Brown, fiery lead guitarisms of Mike McHenry and excellent lead vocalizations by the Funky Duo, Scrape and Wesley Beann!!! "Aqua Boogie", the super-long funkathon, was topped by "Comin' Round the Mountain" featuring the thumpin' sounds of bassman Terre Holland, good lead guitarisms & more heavy drumming!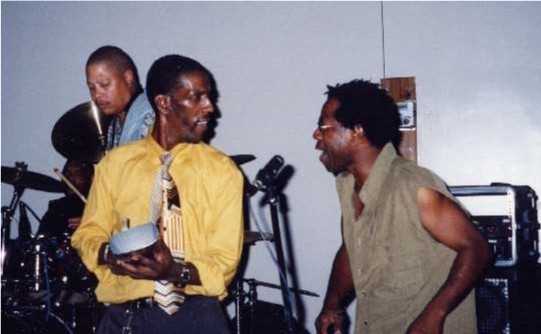 Jerry Queene and Mike, with a Clones of Funk fan (center)!


"Maggot Brain" featured the insane bassisms of Original Clone bassist Jerry...."Maggot Brain" also was shred to pieces by the white-hot lead guitar power of Mike McHenry!!! "Red Hot Momma" was another Mike McHenry masterpiece. "Cosmic Slop" was smoked to death by the smoldering bass funk of Terre......UH, TERRE, TERRE....UH, HE'S SO SCARY, BABA!!! On a smaller low note, Wesley and Mike were dancing about and somehow tripped, knocking out the power cable to Terre's bass.....so, Terre was playing "unplugged" for a minute or two. "Flashlight" featured some more funky, funky bassisms and some funky horns, provided by Jerry Queene and Mike!! The show was over at 1:40am.

<![if !supportLineBreakNewLine]>
<![endif]>
<![if !supportEmptyParas]> <![endif]>
---


Submit suggestions or comments to david.brooks@brookenstein.com