CLOUD 9
At Kennedy Park - Hempstead, NY (8/12/05)
<![if !supportEmptyParas]> <![endif]>
---


"Hi, my name is Kaila, Zack & Jennifer's beautiful daughter!"........AND YOU THOUGHT
ANGELS

DIDN'T EXIST!!!
<![if !supportLineBreakNewLine]>
<![endif]>

At 7:40pm, it was time to give special praise to the Lord with some heavenly funk music, provided by New York's own CLOUD 9 (the spiritual counterpart to the secular band NAPPYHEAD FUNK ARMY). The first song, "Spiritual Revolution" set the funk mark pretty high (this live version surpassed the studio version by miles) with some righteous bass riffs by Mark Bass and searing lead guitar soloing by John Willis! The background vocals of Sherri Harrington, Angela Workman and Judy Yates (original Nappyhead funkster) were......HEAVENLY!! The second song, "I'll Be There", was a more mellower funk tune with some good spacy synthesizer work by Darryle Johnson and passionate lead vocals by Zack Roberson. "Spiritual Purpose" (a great contemporary gospel funk tune) started out with a rock guitar intro and featured heavy-duty lead guitar blessings by John!! "Crying For The World (World Jam)" was a piece of techno music, thanks to the "techo" organ by Darryle, powerful drumming by Darryl Foster, and electronic drumwork by Eric Jay Pierce and Zack Roberson!! "One of Us" featured some passionate lead vocal work by Zack and fiery guitarisms by John! Some of the God-worshippers were allowed to join the band onstage for the song "God" (originally, a Nappyhead tune)....it was just as funky as it was one year ago with the Nappyhead Funk Army. At 8:45pm, "CHURCH" was over!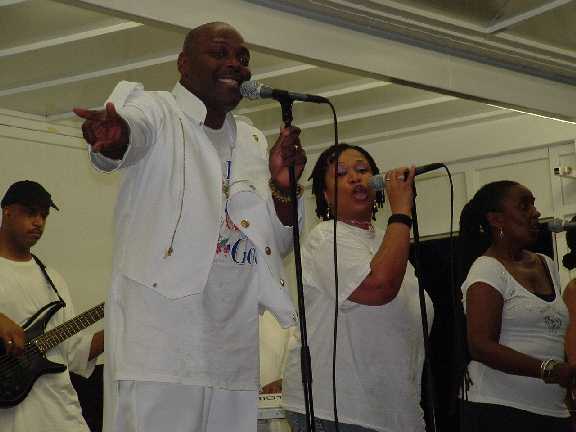 Mark Bass, Zack Roberson, Sherri Harrington & Judy Yates!!


By the way, Zack......I thank the Lord for blessing you to go forth with THIS form of music.....I know somebody's got to do it!

<![if !supportLineBreakNewLine]>
<![endif]>
<![if !supportEmptyParas]> <![endif]>
---


Submit suggestions or comments to david.brooks@brookenstein.com