Dave Mullen & BUTTA
At Club Groove - NYC (1/26/08)
<![if !supportEmptyParas]> <![endif]>
---


"BUTTA-babies" Margarita Bravo & Cynthia Pierce!!
<![if !supportLineBreakNewLine]>
<![endif]>
At 7:30pm, it was time for music lovers to enjoy some of the strongest funk provided by saxophonist Dave Mullen and his band BUTTA. THIS SHOW SHOULD BE LISTED UNDER "WHO LET DA FUNK OUT?" OR "FUNKYARD TIGHT", BABA!! Groovalicious (of The Funk Dynasty/Mo' Phat/Nappyhead Funk Army) was on hand to give some stinky wah-wah rhythm guitarisms, along with odorious bass romping by Don Martin and some good conga playing by Ronnie Rock! Eric Jay was da man, who stood centerstage doin' all the raps....the song was "Mahoney's Way" (yeah, a whole lot of BUTTA...and it ain't Parkay, baba!) "March of the Roaches" was another exercise in funky jazzitude (jazz PLUS attitude) with Dave Mullen being twice as horny (LOL!), blowing both tenor and soprano saxophones simultaneously...not to mention the nice jazzy piano solo by Dario Boente and the rousing drum solo by Damon Duewhite! Margarita Bravo tackled lead vocals very well on "Chase Away the Rain" and "Lost Souls (on the Move)", the latter featuring a nice vibraphone-style solo by Dario.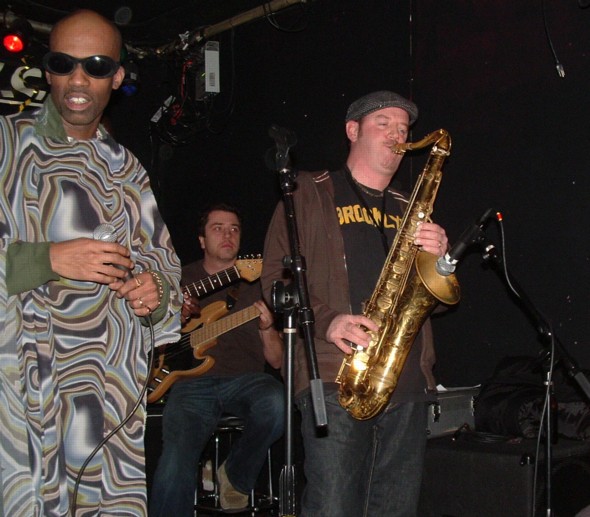 Eric Jay, Don Martin and Dave Mullen


"Flip It" was good, but more interesting was the performance of James Brown's "Get It Together"...the fans were digging the groove but I have one criticism: It would be better if Groovalicious would put more twang in his guitar during the choruses....like the way it was done originally by the late Jimmy Nolen (legendary guitarist for the James Brown band). "Like Rashaan" sounded great with the heavy "walkin'" bass riffing by Don! "Squid" was the last funk tune that I heard before leaving at 8:50pm to check out David Ryan Harris at the Highline Ballroom (in the Meatpacking District of NYC).




"BUTTA-babies" Margarita, Cynthia and "V"!!




"BUTTA-babies" "V" and Joan Willis!!




"BUTTA-babies" Amy, Joan & Cynthia!!


Click here for pictures of Dave Mullen & BUTTA

<![if !supportLineBreakNewLine]>
<![endif]>
<![if !supportEmptyParas]> <![endif]>
---


Submit suggestions or comments to david.brooks@brookenstein.com