DAVE MULLEN & BUTTA
At Shrine - NYC (4/18/08)
<![if !supportEmptyParas]> <![endif]>
---




The FUNKIEST horny horn in NYC, baba....Dave "Mahoney" Mullen!! JUST LIKE BUTTA, BABY BABA!!!!!
<![if !supportLineBreakNewLine]>
<![endif]>
At 12:00 midnight, the Harlem neighborhood was shaken down to its core by some of the funkiest grooves coming out of this bar spot named SHRINE.....the grooves were coming from the stage where the funky saxman Dave Mullen and his group BUTTA were throwing down a song named "Mahoney's Way", featuring Eric Jay Pierce (aka Snakefoot) on turntables and rap, hot saxophone riffing by Dave and nice wah-wah rhythm guitarisms by Groovalicious!!

First of all, this was one of the best places for some good funk music.....there was such a positive vibe in the place. The people that showed up (95% black audience!!!) were TOTALLY into the funk/jazz music....people were not afraid to get up and dance their butts off...people felt the music. It was almost a spiritual thing...unlike clubs like The Groove where everybody just sit still and clap. Shrine has a smaller stage than The Groove, but a bigger dancefloor area...and PEOPLE USED IT!!!

"March of the Roaches" sounded good....and this is where two beautiful nubian queens came over and started dancing...I'm talking about dance-theatre style of dancing....very graceful stuff! "For the Love of Money" started with the funky bass riffs of Don Martin...people started throwing money onto the stage; there was so much money that someone placed a pitcher onstage and people began filling up the pitcher with money! The R&B/inspirational "Lost Souls" didn't feature Margarita Bravo on vocals (because she wasn't feeling well enough to sing), so Snakefoot basically rapped the lyrics of the song....actually, it was very, very good (although I still miss Margarita's version)!! "Get It Together" (the James Brown tune) featured the funky rhythm guitarisms of Groovalicious and a tight rhythm section....this is the song where one Dr. Brookenstein was doing the "Mashed Potatoes" with one of the "nubian queen" dancers! AND, LET ME TELL YOU....SHE WORKED HIM LIKE A PART-TIME JOB....I THINK HE WAS MORE TIRED THAN A ONE-LEGGED MAN IN A KICK-BUTT FIGHT!!! "Like Rashaan" was DA BEST FUNKY TUNE with a good organ solo....and a terrifying percussion solo (especially the nasty timbales solo) by Ronnie Roc! The first set was over at 1:30am.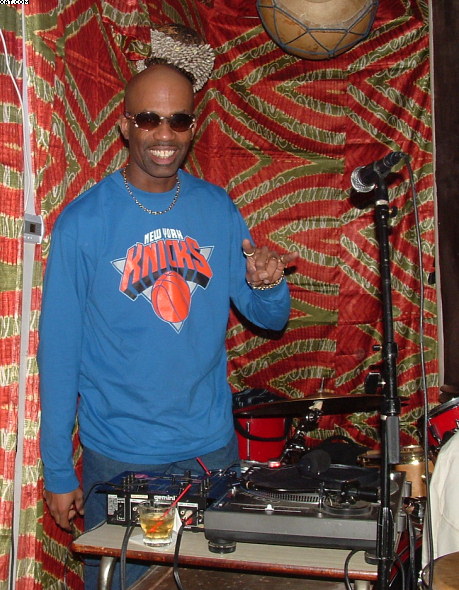 Vocalist/DJ Snakefoot posing for the camera!


BUTTA started their second set (at 2:00am) with good old-school funk, followed by some "Resurrected Be-Bop" that got everyone dancing their butts off.....TALK ABOUT SOME HOT-BUTTA FUNK!!!! YOU COULD SOP THE BUTTA UP WITH SOME BISCUITS, BABA!!! (OOPS, BUT WATCH THAT CHOLESTEROL!!) The percussion work was great on the super-funky BUTTA-flavored tune "Squid"....so was the heavy turntable scratching (by Snakefoot on the Wheelz of Steel) and the profoundly nasty bass riffing by Don. By the end of the night (around 2:30am), Shrine was left smoldering by all of that BURNING BUTTA FUNK!!

<![if !supportLineBreakNewLine]>
<![endif]>
<![if !supportEmptyParas]> <![endif]>
---


Submit suggestions or comments to david.brooks@brookenstein.com