DISCIPLES OF GROOVE (and JOSH DION BAND)
At the North Star Bar - Philly (10/5/07)
<![if !supportEmptyParas]> <![endif]>
---


Disciples of Groove guitarist/lead vocalist Dan Jost & bassist Rob Smith!
<![if !supportLineBreakNewLine]>
<![endif]>
At 11:10pm, Disciples of Groove started their set with "40 Winks" followed by "Had Enough", a funky tune featuring some good lead guitaring by Dan Jost and a standout bass solo by Rob Smith. "The Simpsons Theme" got an interesting facelift with the band throwing in a good dose of hip-hop beats from Blue Method's "Let Me See Ya"... saxophonist Matt Totora played some of the craziest high-pitched sax riffs against the backing hip-hop beat of drummer Dave Gardner!!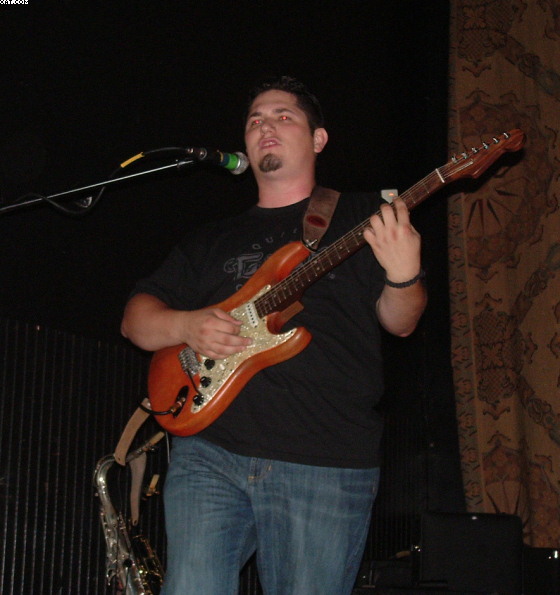 Disciples of Groove rhythm guitarist Matt Totora(also known for the sax)!


"Silver Screen" was good, but "Aeroplane" (originally by the Red Hot Chili Peppers) was da SHIZNIT with some serious bass funking! "Like The Way" was another super-funky cut with some heavy drumming! Following this was an interesting bass solo by Rob. Two more funk cuts followed including "So You Can See". But the best part of the show was the conclusion of the set with a Funkadelic tune called "Good to Your Earhole" (dedicated to one Dr. Brookenstein), featuring hardcore rock guitar soloing by Dan!! The set ended around 12:00 midnight.


Click here for pictures of The Disciples of Groove




Power drummer Josh Dion!


At 12:30am, the Josh Dion Band started with a song called "Walking on Stilts"...this was a pretty funky R&B tune featuring the wild man Josh Dion on power drums! (The best thing about seeing this band live is their abundant energy onstage... especially watching Josh do his thang behind the drum kit & hearing Sarah sing lead vocals on "Let's Do It Again"!!! By the way, for those who have seen this band live...doesn't Josh kind of resemble Jack Black? (LOL!)) Both "Walking on Stilts" and the next song featured some nice piano riffing. Speaking of Sarah, "Let's Do It Again" was an amazing lead vocal performance, punctuated by good bass playing. Sarah has a very strong voice...I just wish that she was out front, instead of standing behind the drummer & keyboardist, even if she had to stand offstage in the audience. "You Should Know" was another fine R&B tune, but it was nothing compared to "Birdwalker", a serious piece of funky R&B work that featured some serious jamming, including some crankin' lead guitaring and s'more powerful drumming by Josh!! I left the North Star Bar at 1:25am to head home and these guys were still jammin'!

<![if !supportLineBreakNewLine]>
<![endif]>
<![if !supportEmptyParas]> <![endif]>
---


Submit suggestions or comments to david.brooks@brookenstein.com