ENEMY SQUAD
At Tobacco Road - NYC (10/12/02)
<![if !supportEmptyParas]> <![endif]>
---
<![if !supportEmptyParas]> <![endif]>
First off, this was supposed to be a Sheila Horne (of George Clinton & the P-Funk Allstars fame) show featuring the backing band, Enemy Squad. However, Sheila couldn't make the show, so it became an Enemy Squad show! Guest members of the band included George Clinton, Jr. (bass), The Flash (lead guitar, of Bernie Worrell & the WOO Warriors fame), L.A.W. (rapper), Angela Workman (vocals, of Nappyhead Funk Army fame), Nowell Haskins (vocals, of Funk-Kin fame), and DJ Lynn Swan. The core members are Gabe Gonzalez (drums, vocals & leadership), K.C. (bass), Ron Smith (guitar), and Pete Piscarzyk (keyboards).
<![if !supportEmptyParas]> <![endif]>



Gabe Gonzalez.....The Undisco Kidd!!!!!!

<![if !supportLineBreakNewLine]>
<![endif]>
At 12:45am, the lethal funk-rock extravaganza began with a good introduction of the band by one Dr. Brookenstein!! Let me see if I can recite what he said: "Tobacco Road! (in Bootsy Collins's CASPER voice) Well, uh.......HALLELUJAH, BABY BABA!! (laughs to Nowell Haskins, who is in the audience) Yeah! Please welcome the funkiest rock band out of Detroit, Michigan......ENEMY SQUAD!!!!!!!!" Enemy Squad did the lethal E-Squadelic rock standards "Welcome to the Millennium" and "Return of the Swamp Thang". "If It Fits (Do You Swear It?)" featured good bass riffs by George Clinton, Jr. and the Flash's killer lead guitarisms!!! DJ Lynn Swan did some turntable scratching on the LP play of Funkadelic's "Get Off Your Ass and Jam" before the band did the song "Anti-Prozac", with Ron Smith giving up some lead guitar madness!!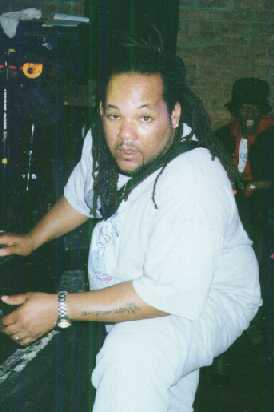 Funk-Kin drummer, Nowell Haskins!!!


"Prankster Boogie" was good, and so was the segment of the show where Nowell Haskins hyped up the audience with some chants and L.A.W. did some rapping!
"United State of Mind" was the absolute bomb because everyone got to solo.......the Flash set the club afire with some insane, volatile, Hendrixian guitar blasts and groans!!! Gabe added to the property damage with some bombastic drumming....the rhythm guitarisms by K.C. was also really good!!
A welcomed rarity, "Promentalshitbackwashpsychosis Enemy Squad (The Doo-Doo Chasers)" smoked with some thumpin' bass by K.C., some double-guitar rockisms by Ron and The Flash, and some flavorable keyboard riffs by Pete Piscarzyk!!!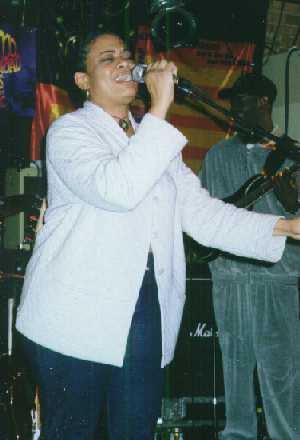 Angela Workman.......bad-ass vocalist!!



Another rarity, "Handcuffs", smoked with some great vocals by K.C. and L.A.W. Featured guest vocalist, Angela Workman, practically blew away the fans with her powerful voice!! The only bad part about this song involved the inclusion of the turntable scratching.......what was the purpose of this?? It didn't add anything to the song.......actually, it took away some of the funk! "Alice in My Fantasies" and "Good to Your Earhole" were serious guitar and bass highlights!! "Trick Chick Jane" featured some super-funky to the 1,000th power bass strength on it (thanks to K.C.)!! The show was over at 2:45am.

<![if !supportLineBreakNewLine]>
<![endif]>
<![if !supportEmptyParas]> <![endif]>
---


Submit suggestions or comments to david.brooks@brookenstein.com