EXTRA VIRGIN
At the 8 x 10 Club - Baltimore, MD (5/05/01)
<![if !supportEmptyParas]> <![endif]>
---
<![if !supportEmptyParas]> <![endif]>


Rene Lopez, leader and guitarist!!
<![if !supportLineBreakNewLine]>
<![endif]>
After hanging out with the members of Extra Virgin, I checked out their show at the 8 x 10 Club. They started their performance at 12:35am with a new song called "Nothin' Like Your Love", a funk-rocker with some funky bass by Pat, phat guitar licks by Rene Lopez & Rogers Stevens, and heavy drumming by Bill!! Rogers's lead guitar solo was phenomenal!!! The next song was okay, but "Goin' Deep" was better with more hardcore guitar rawness by Rogers.....better than the last time they played it live! "Sundays on the Train" was a funk-rock romp highlighted by Pat's extra-thick funk bass!!!! The classic rock of "Everything's Changin'" was enhanced by Rogers's sizzling guitarisms!!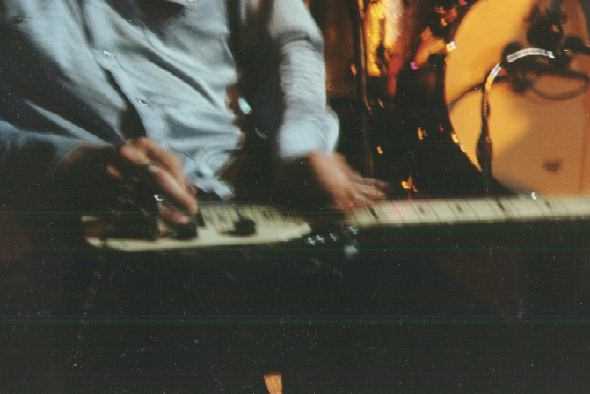 The fast-action fingers of Rogers Stevens on the lap steel!!


The slow rock of "Last Time I Heard Your Name" was pretty good, but "Devil Made Me Do It" was better with Rogers played a lap steel guitar. "Palm Reader" was some subtle but tasteful rock. "20 Days" featured a funkatizing bass & guitar workout at the end and that was the first song that I remembered hearing backing vocalist Pat's voice very well!! Well, the show ended at 1:25am, but was followed by the encore performance of.............(drum roll, please!)..............."Fat Laces"!!!!!!!!! The funkiest song ever created by Extra Virgin had everyone in 8 x 10 dancing about!!!! The show finally ended at 1:30am.
<![if !supportEmptyParas]> <![endif]>
---


Submit suggestions or comments to david.brooks@brookenstein.com