THE FAMILY STONE FUNK EXPERIENCE
At the Ramshead Tavern - Annapolis, MD (7/15/05)
<![if !supportEmptyParas]> <![endif]>
---
<![if !supportEmptyParas]> <![endif]>


The funky Bride, Dawn Silva<![if !supportFootnotes]>

---

<![endif]>!!

(PHOTO COURTESY OF CASE1906@AOL.COM....THANKS FOR THE CONTRIBUTION, CASE!!!)


<![if !supportLineBreakNewLine]>
<![endif]>

I arrived at 7:10pm (10 minutes late) to check out The Family Stone Funk Experience doing a funky jam. "Dance to the Music" was funky, with vocals by Dawn "Bride of Funkenstein" Silva, Fred Ross, Bobby Summers and Gail Muldrow...the guitar licks by Gail and Vernon Black were hot, the bass romps by Victor Little were funky, the organ riffing by Bobby Summers (known for his work with the Rev. Al Green) were great, the drumming by original Family Stone memberGreg Errico was legendary, and the horn riffs by trombonist Frankie J (originally of the Bar-Kays) & original Family Stone member Jerry Martini were nothing short of spectacular! "Hot Fun in the Summertime" was a song that fit the hot & humid season, and was followed by the "Somebody's Watching You" featured some standout organ work by Bobby. "Stand" was followed by the ultra-funky "Thank You (Falettinme Be Mice Elf Agin)" featured some kickin' bass riffs by Victor (oops, not THAT Victor)......Victor Little! The song segued into "Thank You For Talking to Me Africa" and back to "Thank You (Falettinme Be Mice Elf Agin)". "Family Affair" featured some standout synthesizer work, and good percussion by Jerry. The band ended the hour-long set (AN HOUR LONG?? Are you kiddin' me???) with the funky "I Want to Take You Higher". The show was over at 8:00pm.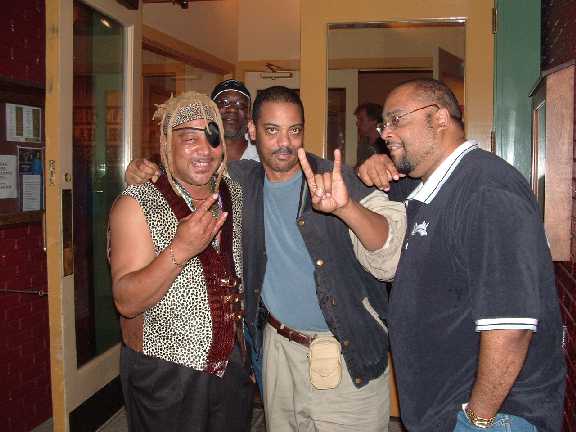 Frankie Jay (formerly of the Bar-Kays), JJ and Dr. G!!!


The only low point of the show was the brevity of the set...I heard the second set was the same length. As much stuff as Sly & The Family Stone released, the show could have easily been 2 hours long.

<![if !supportLineBreakNewLine]>
<![endif]>
<![if !supportEmptyParas]> <![endif]>
---


Submit suggestions or comments to david.brooks@brookenstein.com