E.U.
(with the First Family of Funk and Slave)
At the State Theatre - Falls Church, VA (12/26/03)
<![if !supportEmptyParas]> <![endif]>
---
<![if !supportEmptyParas]> <![endif]>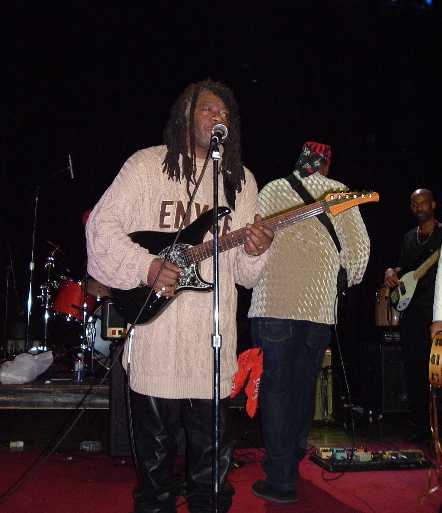 Garry "Diaperman" Shider.....clothed!


The First Family of Funk started at 9:40pm, featuring P-Funk veterans Garry "Diaperman" Shider and Jerome "Bigfoot" Brailey. The first song was "Cholly".......funky with some good basswork. "Red Hot Momma" was exactly red-hot with Garry giving up some smokin' lead guitar riffs that sound like Jimi Hendrix's "Voodoo Chile" in the beginning 60 seconds of the song!! "Standing on the Verge of Gettin' It On" was good, but I had to step outside the performance room to handle something. When I came back, the band was playing some THC Mercenaries stuff with the THC rappers up-front.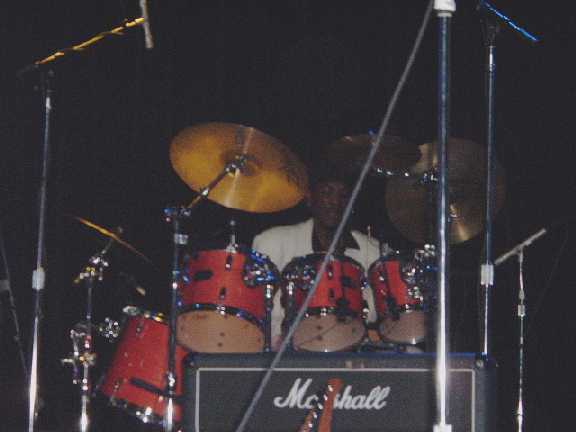 Jerome "Bigfoot" Brailey on the heavy foot!!


Bigfoot broke it down with the opening drum riffs of "Cosmic Slop".....'Cosmic Slop" could have been better if the guys actually played the entire show......instead, Garry sang only two rounds of "Space people.....universal love" before jumping into the verses. Garry stopped the band at the start of the chorus to say "That's it....no more!"......but, after hearing fans groan about it, he decided to sing the chorus with the band coming in on the mellow tip. Then, the band did a good amount of "One Nation Under a Groove"......."One Nation" should have been dropped, so the guys could dig DEEP into "Cosmic Slop". The First Family of Funk set ended at 10:25pm.


E.U. started their set at 10:45pm with some infectious go-go music. The second song was the song they performed with Salt-N-Pepa....."It's Your Thing", featuring Sugar Bear on deep, Sugarfoot-style vocals! "A Taste of Your Love" was a lovely ballad with some good synthesizer riffs. It was on to an old school jam with a great percussion solo (on congas)! After a little while, it was time to do "Da Butt"......the audience lit up and began their moneymakers....some hot go-go stuff like the studio version, but the best part of the show was seeing the female lead vocalist shaking her ass.......OWWW!!! (as Sugar Bear would say!) The E.U. set ended at 11:30pm.


At 12:05am, Slave began their funky set with "The Party Song", featuring some good horns! Lead vocalist Floyd sang lead vocals on "Weak at the Knees"......a Steve Arrington song (not a SLAVE song) that probably would sound better coming from Steve's mouth. "Just a Touch of Love" featured the killer bass solo of Mark Adams and some powerful drumming towards the end. "Watching You" featured some good bass, and "Slide" (the show's closer) had every fan sliding to and fro on the dancefloor!! The lead guitar solo was so hot that it melted the woofers and tweeters in the room and Mark's dangerous bass solo was enough to open a 6-foot-deep crater in Washington Street (in front of the State Theatre). The Slave extravaganza was over at 12:55am.

<![if !supportLineBreakNewLine]>
<![endif]>
<![if !supportEmptyParas]> <![endif]>
---


Submit suggestions or comments to david.brooks@brookenstein.com