THE FLASH & His Band of Warriors
At Tobacco Road, NYC (11/27/02)
<![if !supportEmptyParas]> <![endif]>
---
<![if !supportEmptyParas]> <![endif]>


The Flash is one bad mutha----SHUT YOUR MOUTH!! I'm just talking 'bout THE FLASH!!
<![if !supportLineBreakNewLine]>
<![endif]>
The personnel for THE FLASH & His Band of Warriors:
<![if !supportLists]>1.

<![endif]>
The Flash - WOOstock lead guitar, vocals
<![if !supportLists]>2.

<![endif]>
Gregg "Daffy Duck" Fitz - keyboards, vocals
<![if !supportLists]>3.

<![endif]>
John Hickey - guitar
<![if !supportLists]>4.

<![endif]>
Donna "Lady Bass" McPherson - bass
<![if !supportLists]>5.

<![endif]>
Gary Sullivan - drums
<![if !supportEmptyParas]> <![endif]>
At 12:35am, The Flash & His Band of Warriors started with a song about bringing peace to the world, featuring the Hendrix-style distorted guitar vamps by John Hickey! The next song was an instrumental with The Flash's patented lead guitar antics and a power drum solo (solid as a rock, heavy as a boulder) by Gary Sullivan!! The next song began with a funky drum solo that slowed to a mid-tempo beat.....John was doing lead vocals on this tune, accompanied by the funky bassisms of Donna McPherson and powerful bass synthesized riffs by Gregg Fitz!! "Super Stupid" (a WOO Warriors favorite) was followed by "The Goose" (!).....YES, the sleazy funk tune with funky guitar riffing by The Flash.....unfortunately, the vocals were a little off in the beginning....like the vocalists forgot the words. The scratch guitarisms were smokin' on "I Need Help"!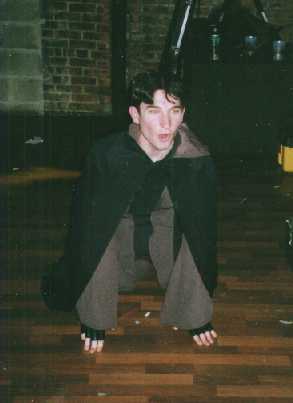 A fan of the funk gets off on all fours!!!
<![if !supportLineBreakNewLine]>
<![endif]>
"I Got a Thang, You Got a Thang, Everybody's Got a Thang" was good, except the band needed to tighten up the groove. John's guitaring seems too slow for the fast-paced song! Also, the guitar solos were just not raw enough....nothing off the wall like the LP version.
"You and Your Folks, Me and My Folks" (segued from the "I Got a Thang" thang) featured the smolderin' bass grooves! The last song was a tender ballad about helping others. The show ended way too soon at 2:00am.
<![if !supportEmptyParas]> <![endif]>
---


Submit suggestions or comments to david.brooks@brookenstein.com