FREAKWINCEY
At the Heritage Days Festival - Trenton, NJ (6/2/07)
<![if !supportEmptyParas]> <![endif]>
---
<![if !supportEmptyParas]> <![endif]>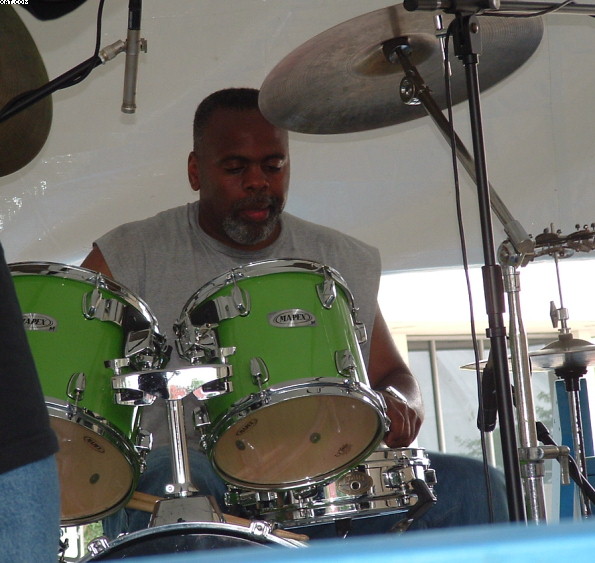 The leader of the band, Mr. Ray Billups!
<![if !supportLineBreakNewLine]>
<![endif]>



At 3:30pm, New Jersey-based R&B/funk band FREAKWINCEY got off to a late start with a blast from the 1970s called "Love Train" (originally by The O'Jays), with lead vocals by keyboardist AJ. (FREAKWINCEY is a band that normally performs Top 40 R&B hits from the 70s to the present, but every once in a while, they will perform some of their original stuff) After the first song, it was on to some "Rapper's Delight" (originally by The Sugar Hill Gang), followed by the tune that inspired the Sugar Hill track "Good Times" (originally by Chic), featuring lead vocals and rap by AJ (along with co-lead rapping by second keyboardist Gary Goins, no relation to Glenn or Kevin Goins). "Word Up" (originally by Cameo) featured lead vocalist by good-tarist (or guitarist) Gene-O Thomas.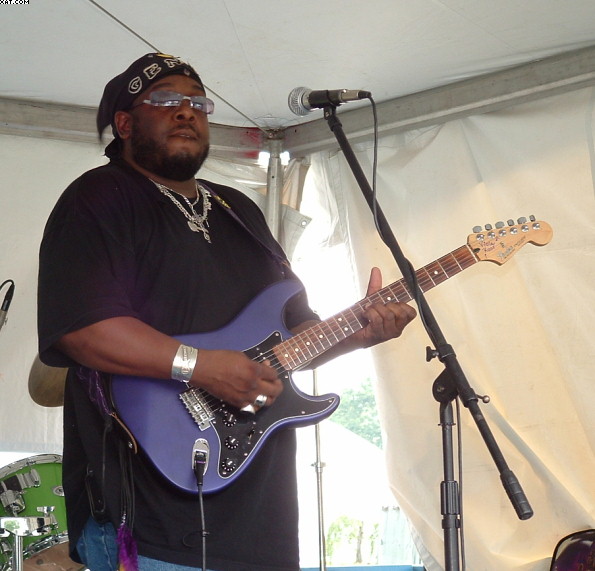 The Cookie Monster himself, GENE-O THOMAS!!!


"Give It to Me, Baby" (originally by Rick James) was the first standout tune of the set, with Gene-O playing strong melodic lead guitar riffs throughout the verses (over the fast, funky scratch guitaring of Rome-Dog, who also was the lead vocalist for this song)...Gene-O gave it up with some good lead guitar wailing over the breaks! "Electric Boogie" (originally by Marcia Griffiths) only got three people up from their seats, doing the Electric Slide... seriously, most of the people were not in a dancing mood (I DON'T KNOW WHY, THOUGH!!) "I'll Take You There" (originally by The Staples Singers, featuring Mavis Staples) was another good track...this tune and the previous one were sung by AJ. The most interesting part of the show was the stellar performance of Gene-O on "Purple Rain" (originally by Prince)....Gene-O handled the lead vocals and the spectacular lead guitar work.... this guy could set off a six-alarm fire with the red-hot guitar wailing during the last 4 minutes of the song!!! After that, HHHHHHEEEYYYYYY....it was time to get up...like a "Sex Machine" (originally by James Brown), Gary counted it off and Freakwincey got itself a deep funky groove. Gary let loose some nasty, spicy keyboard riffs. Even the rhythm section was cutting loose on some of da funk....talk about some funky bass by Greg and some tight drumming by bandleader Ray Billups! It was time to slow down and get a little jazzy with the sounds of "Mister Magic" (originally by Grover Washington, Jr.), featuring horny horns by guest saxophonist Baton and guest flutist Randy. Randy (this time on harmonica) and Baton even played on the blues number, "Down Home Blues" (originally by Z.Z. Hill), which featured AJ on lead vocals. Gene-O took over the lead vocal spot for a dedication to Gerald Levert with one of his newer songs "DJ Don't", a funky tune. Finally, Gene-O and the fellas ended the show with a little piece of P-Funk called "Flashlight" (originally by Parliament)... lead vocals by Gene-O...this was a rather funky end to a very good set....it was over around 4:40pm.
<![if !supportEmptyParas]> <![endif]>
IF YOU GET A CHANCE TO SEE FREAKWINCEY, MAKE SURE THAT YOU CHECK THEM OUT!! THESE BOYZ ARE GREAT!!!





LEFT: Guest musician, Randy on the flute!
RIGHT: Guest musician, Baton on the sax!


Click here for pictures of Freakwincey

<![if !supportLineBreakNewLine]>
<![endif]>
<![if !supportEmptyParas]> <![endif]>
---


Submit suggestions or comments to david.brooks@brookenstein.com