FREEKBASS
(with Jackass)
At the Mad Frog - Cincinnati, OH (1/19/02)
<![if !supportEmptyParas]> <![endif]>
---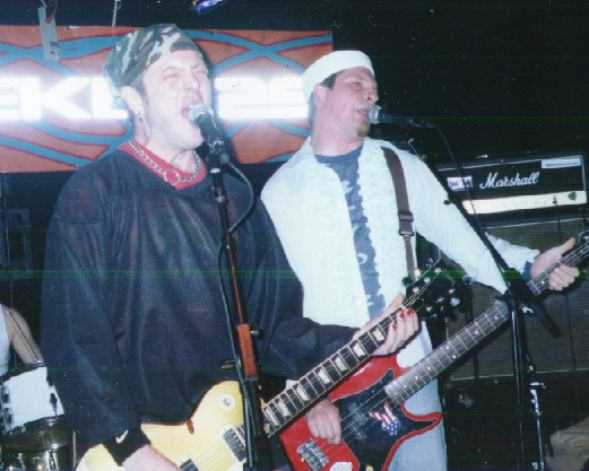 At 11:00pm, the Mad Frog got a dose of "mad music" from a hardcore rock band called Jackass (what a stupid name!!) The first song was about beer.....the fellas did some serious rock guitar army shit.....HARDCORE TO THE MAX!! Interesting enough, the lead vocalist/guitarist sounds a little like Jeremy Hugo, frontman of the (now defunct) Philly rock band, Betty Whitetrash! The second song started with some funky guitar shit as the intro and then turned into a full rock blast......more funky guitar riffs could be heard as the bassist was doing the lead vocals!! One criticism about Jackass's set was that the first four songs sounded too much alike. Also, Jackass fooled the fans by saying that they were going to play a straight-up funk song in dedication to Freekbass......instead, it was more of the hardcore rock. Heavy drumbeats were probably heard about four blocks from the club! "Dukkake" was a steadier-paced rock song with some funky lap steel guitarisms! Afterwards, it was back to the head-banging rock stuff. Their set ended at 11:30pm.


Click here for pictures of Jackass



At 12:15am, the Mad Frog was greeted with a dose of funk royalty. These guys, known as Freekbass, carried themselves to the stage with an air of stardom.......a stage complete with a white smoke machine, a dazzling multi-color light display show, and some in-your-face funky attitude!!! All the fans in the club (the place was packed!) focused their eyes and ears on the band that follows in fellow native Cincinnatian Bootsy Collins's footsteps when it comes to giving the audience 150% of the funk!!!





The leader of the band, Freekbass himself!!!!



After the intro (sound of someone chanting Freekbass) and the band's arrival,
the band dropped the F-bomb on the people with Funkadelic's "Red Hot Momma"!!!! 'Twas so funky with some hard-edge rock guitar by Sean and some stank-ass, hellified keyboard riffs by the silver face-painted freak, Beta-17!! "Freebass Y2K" was da shit with some good scratch guitaring and DEFINITELY the Mutron-afflicted power bass solo by leader/lead vocalist/bassist Freekbass!! The bass riffs melted the speakers and set the club afire!!

<![if !supportLineBreakNewLine]>
<![endif]>




(Of course, there was one Dr. Brookenstein dancing about with a multi-colored wig and boa, a flashy multi-colored shirt, the "Fresh Outta P University" Bootsy T-shirt, Cordell Mosson-style glasses, a blue-colored glowing bracelet, and five different-colored necklaces with stars on them!!) "She's Already There" featured some spaced-out synthesized soundz & good funk guitarisms. The next song featured an intro of funky drumbeats by Swift and some spicy, Worrell-esque keyboardisms! On the next song, Freekbass borrowed a hook from the song, "Body Over Mind". Drummer Swift did his thang as the rapper on "Thang", with Joodi doing a great saxophone solo! The funk was poured on thick on the next song, David Bowie's "Fame".....thanks to the funky scratch guitarisms of Sean McGary!!
The band even Bootsy's song, "What's the Name of This Town?" and I almost screamed "Bootsy! Bootsy!" when they asked, "Who's gonna get on down?" It was close to the funkiness of Bootsy's original.
"Mission" was funky because of the funky sax riffs, while "Body Over Mind" featured a funkafied drum solo, spacy keybaordisms & some strong bass!
"Hear Me Play" shook the foundation of the Mad Frog with "funk to the infinity power".....the bass riffs were smoldering......that combined with the heat from the light show and white smoke nearly destroyed the club!!!!!!!
The Freekbass experience concluded at 1:55am.

<![if !supportLineBreakNewLine]>
<![endif]>
<![if !supportEmptyParas]> <![endif]>
---


Submit suggestions or comments to david.brooks@brookenstein.com