FREEKBASS
At Peabody's - Cleveland, OH (11/01/03)
<![if !supportEmptyParas]> <![endif]>
---
<![if !supportEmptyParas]> <![endif]>


Chris "FREEKBASS" Sherman is da bomb!!!
<![if !supportLineBreakNewLine]>
<![endif]>
At 11:10pm, an introduction of the Freekbass band was heard over the speakers and the show started with Mista Swift on drums and Sean McGary on some funky rhythm guitar licks!! The rest of the band joined in and got "Invincible" (which is from the new CD "The Air is Fresher Underground")....this was some good ole in-your-face, nasty Cincinnati funk as Chris "Freekbass" Sherman turned the bass to superfunk mode! The basswork was heavy as usual on "Freekbass 2YK". "Play" was the ultimate highlight featuring Freekbass's bass blowing away people's eardrums......(where do Cincinnati players get their energy from? Must be something in the water they drink.....does not compute!)....funkativity registered at 15 (on a scale of 1-10)!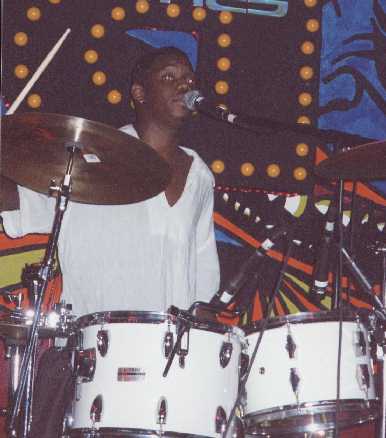 DA MAN ON DA SKINZ, MISTA SWIFT!!! (FA SHIZZLE, MY NIZZLE!!)


"Red Hot Momma" was cookin' with the lead guitarisms of Sean!! "Believe in You" (a slightly older song) was also a foot-stompin' extravaganza with Aaron Mahoney on keyboards! I noticed that the band has a female background singer...I don't know her name but she sounded pretty good. After the band threw down on some newer material, the show was over at 12:10am.


GO OUT AND BUY THE NEW FREEKBASS CD "THE AIR IS FRESHER UNDERGROUND"......FEATURING PERFORMANCES BY BOOTSY COLLINS, BERNIE WORRELL, BUCKETHEAD, GREGG FITZ & JOHN HICKEY (OF WOO WARRIORS FAME), AND CATFISH COLLINS!! IT'S A MUST-HAVE FUNKY CD.......CAN YOU DIG IT?!!!!
<![if !supportEmptyParas]> <![endif]>

<![if !supportLineBreakNewLine]>
<![endif]>
<![if !supportEmptyParas]> <![endif]>
---


Submit suggestions or comments to david.brooks@brookenstein.com