FUNKFACE
At The Delancey - NYC (6/15/07)
<![if !supportEmptyParas]> <![endif]>
---


Funkface's lead vocalist Luqman Brown with Living Colour's Corey Glover!


OKAY, OKAY, OKAY!!!! This is the part of the review where Dr. Brookenstein gets to rant and rave again! What is up with some of this "hole-in-the-wall" clubs??!!!! I was attempting to enter The Delancey but according to some regulation, you cannot enter with drinks (soda, water....whatever non-alcoholic) AND you cannot enter with solid foods. OK...this is a PIECE-OF-SHIT, FUCKED UP LIL' PISS-ASS HOLE IN THE WALL CLUB THAT WOULD MAKE CBGB'S LOOK LIKE MADISON SQUARE GARDEN! YOU WOULD HAVE THOUGHT THAT THIS WAS THE BLUE NOTE or ROSELAND BALLROOM! Ok, maybe there's something to the no-drink policy, but no solid food???? (I was in possession of one banana) This PIECE-OF-SHIT place doesn't serve food, so WTF??! If anything, if you eat enough food, you WOULD want to buy a drink at the bar. The "bouncer" offered to hold my contraband, but I said that I would ingest it right there (lucky for him he didn't discover the small can of peanuts in my bag, otherwise I'd ask him to HOLD MY (DEEZ!) NUTS!!!! As far as the bathroom, WELL.... (THAT'S ANOTHER STORY!)
<![if !supportLineBreakNewLine]>
<![endif]>
At 12:00 midnite, Funkface began their set with the funk-rock nastiness of "Down in The Bayou", featuring gritty, insane vocals of Mr. Luqman Brown (aka The Vitamin Luqee) and a sizzlin' rock guitar solo by one and only Jerome Jordan! The Bad Brains's original "I Against I" was some heavy-duty punk-rock stuff, made perfect with the backing vocals of drummer Ramsey Jones and guitarist 40 oz. Jeff...also great was the crushing guitar army of bassist Frankiebeans, 40 oz. Jeff and Jerome! "Broken Toys" featured some insane lead guitar shredding by 40 oz. Jeff! After the performance of "Time", Luqman joked that the next song was going to be Nirvana's "Smells Like Teen Spirit"...he bragged about how good those guys were, until somebody in the audience praised rock group Soundgarden...then, it was "Fuck Nirvana"! Anyway, the band went into "Something's Going On". Luqman announced the next song by saying that it's about eating ass (and even asked if anyone tosses salads)....this led into the lethal rock song, "Lick Shot".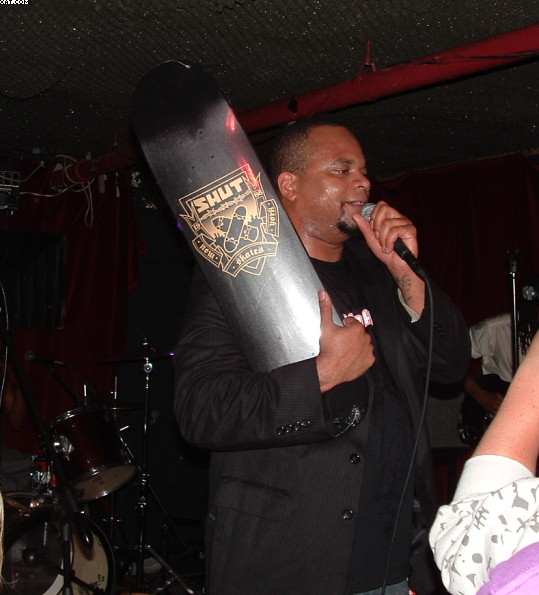 Luqman with the SHUT skateboard!


Luqman announced that he was giving away a SHUT skateboard to one lucky skateboarder....this guy: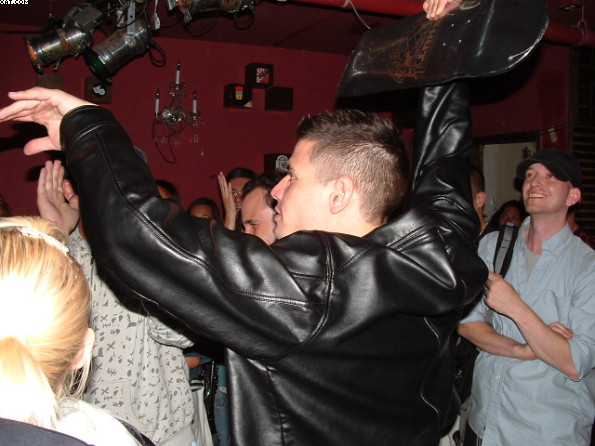 got the skateboard. This was the same white guy that was responsible for starting a 3-man moshpit during the performance of the show's finale "Zoo York City", where Ramsey was tearin' up some drums fiercely! (of course, what would you expect from Ramsey?) The show was over at 12:40am.

<![if !supportLineBreakNewLine]>
<![endif]>
<![if !supportEmptyParas]> <![endif]>
---


Submit suggestions or comments to david.brooks@brookenstein.com