FUNK-KIN
At the Lucky Dog Music Hall - Worcester, MA (8/13/04)
<![if !supportEmptyParas]> <![endif]>
---
<![if !supportEmptyParas]> <![endif]>


K-Funkstar.....the day before his marriage to B-Funkstar (Barbara Johnson)!!!!
<![if !supportLineBreakNewLine]>
<![endif]>
At 11:45pm, it was time for Funk-Kin to throw down in honor of one of their members getting married the next day (K-FUNKSTAR aka Keith Thomas)!! The party started with an intro jam that incorporated "Let's Take It to The Stage". "Off Da Hook" was some funky rock stuff with good lead vocals by K-Funkstar and lead guitar slaying by Charlie Rivers!! "Tight Shit" was tight with some heavy, perkulating bassisms during the breakdown by the Perkulator, Billy Perk Puryear.....Charlie took airbody higher with some smoking lead guitarisms....oh, and Billy Spruill also decided to blast the funk fans with extra nasty rock guitarisms!! "Come Together" featured Charlie and Billy on lead vocals.......unfortunately, the vocals were not that loud...but the rhythm guitarisms of Nate Shider was da bomb!! "Move That Sexy Body" was good, but better was "Pushing That Funk" (with the backdrop of "Mothership Connection"), featuring bits of "Rumplesteelskin", the "Do You Believe in The Funk" segment (with the backdrop of "Swing Down, Sweet Chariot") and the tight drumming of Nowell Haskins!!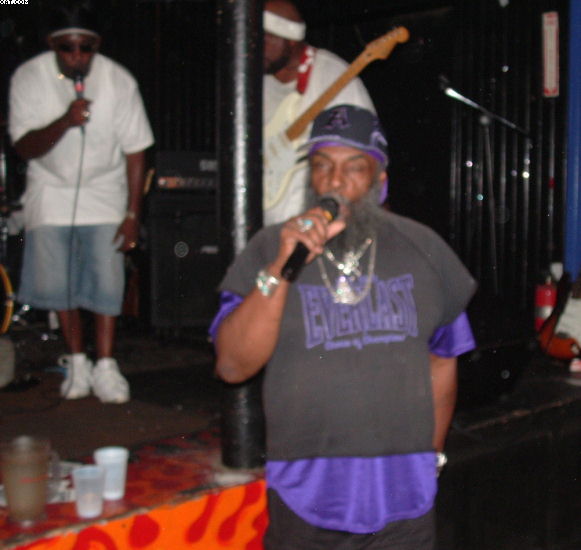 Grady Thomas, original & Rock 'n' Roll Hall of Fame Parliament member!!!!


A founding father of the P-Funk, Grady Thomas (father of K-Funkstar and Gene Thomas, Original P lead guitarist) was on hand to sing a bit. "Red Hot Momma" was K-Funkstar's vocal apex, but the band went into the breakdown while K-Funkstar was singing the second round of the chorus (??!!)......the synthesizer work of Batman was good, though. Funk-Kin went into a jam where Nate's rhythm guitar licks smoked the paint off the walls and the Perkulator's bass began to perkulate like Folgers coffee (yeah, the stuff was mountain-grown, baba)!! Following that was the introduction of each band member with solos.......Charlie nearly burned up the speakers with his pyrotechnic lead guitar attacks!! "Up For the Down Stroke" was good because of Batman's funky synthesized riffs. The show was over at 1:30am.

<![if !supportLineBreakNewLine]>
<![endif]>
<![if !supportEmptyParas]> <![endif]>
---


Submit suggestions or comments to david.brooks@brookenstein.com