GOV'T CHEESE
At the Lion's Den - NYC (2/5/04)
<![if !supportEmptyParas]> <![endif]>
---


GOV'T CHEESE members Billy Spruill, Nowell Haskins, Billy Perk Puryear & Charlie Rivers!!!
<![if !supportLineBreakNewLine]>
<![endif]>
Gov't Cheese (really members of Funk-Kin, the Plainfield dynamo funk unit) started their set at 10:30pm with a funky jam, featuring the delicious rhythm guitar riffs of Charlie Rivers, burning lead guitar riffs of Billy Spruill, tight drumming of Nowell Haskins, and smolderin' bass riffing of Billy Perk "The Perkulator" Puryear!! "The Goose" was da shit, reminding one of the Wetlands shows that Funk-Kin did in the yester-years....Nowell, Billy Spruill and Charlie did the vocals. "Tight Shit" (a Funk-Kin staple) featured Charlie on nasty lead guitarisms, perkulating bassisms and a mellow breakdown. "The Monkey" featured Charlie on lead vocals and a fiery guitar solo....unfortunately, his vocals were too low.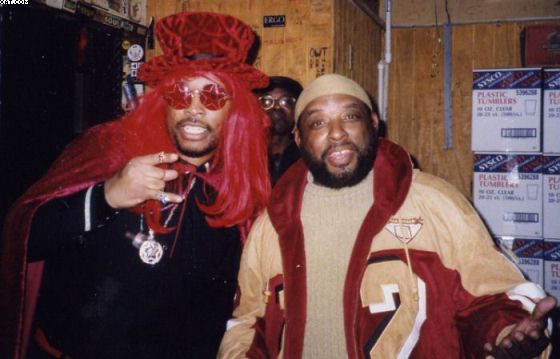 Dr. Brookenstein with Billy Spruill!


Billy Spruill handled lead vocals on a funky reggae song.....his lead guitarisms stank up the Lion's Den.....burned some eyebrows right off!!! "Come Together" featured Charlie and Billy Spruill on lead vocals and it was a very good rendition of the Beatles song. "Off Da Hook" was very tight with a funky groove between the 4 members.....unfortunately, there were no vocals (maybe K-Funkstar should have been there to do the honors!) The ending was the Bootsy segment "Wind Me Up" (without the vocals). GOV'T CHEESE AIN'T NEVER STINK THIS GOOD!!!! The show was over at 11:15pm.

<![if !supportLineBreakNewLine]>
<![endif]>
<![if !supportEmptyParas]> <![endif]>
---


Submit suggestions or comments to david.brooks@brookenstein.com