THE JOHN HICKEY BAND
At the Court Tavern - New Brunswick, NJ (7/20/07)
<![if !supportEmptyParas]> <![endif]>
---




Guitar phenom, John Hickey!!!!
<![if !supportLineBreakNewLine]>
<![endif]>
At 11:50pm, New Brunswick's own John Hickey and his band started the show with a funk-strumental , featuring standout solos by John (on guitar), Troy White (on drums), Gregg Fitz (on keyboards) and The Perkulator (on bass). The funk-strumental was followed by a vocal tune (I don't remember the name of it) and "The Means of Production/What I Want To Do", featuring the freakish, outta-space, WOO-style synthesizer riffs of Gregg "Daffy Duck" Fitz! The Birthday Girl herself, Ms. Cissy Fitz, graced the audience with her lead vocals on the nasty "Red Hot Momma". The funk-rock madness slowed to a simmer so Gregg can perform lead vocals for the obscure Quazar tune "One Hell of a Thing" (featuring Cissy on some great harmonizing backing vocals) Gregg played some of the funkiest clavinet riffs on "Superstition" (which featured him on lead vocals)...the song included a four-minute version of "Atomic Dog"! "Deadbeat" was some nasty funk-rock stuff, while the funky "The Goose" included a mesmerizing, soaring guitar solo by the great John Hickey!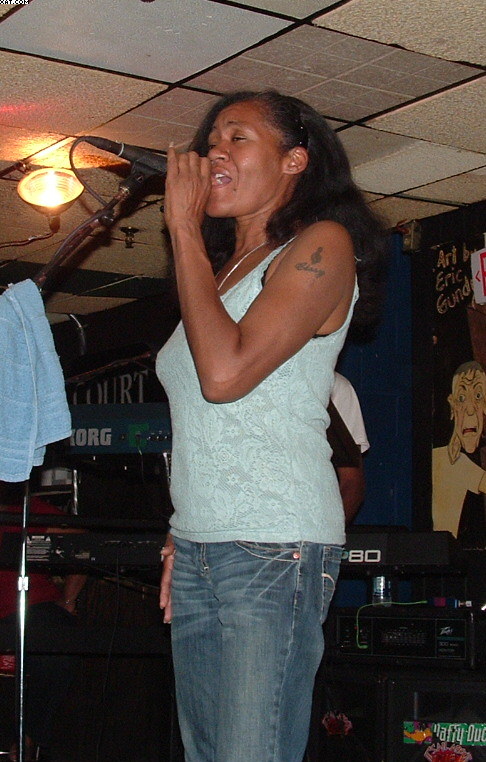 Cissy "The Birthday Girl" Fitz!!


After Gregg sang "Happy Birthday" to his sister Cissy, it was on to some stupid funk...the song "Stupid Hat", that is....and there I am dancin' about in my stupid hat (red, black & green court-jester hat) in funk heaven as The Perkulator layed down so much thumpin' funk bass that even the most stubborn, unfunkiest Sir Nose would be transformed in a dancing fool!! Funky brotha himself, Troy White, was on hand as the man with the tightest, funkiest drumbeats (HE'S TOO FUNKY)!!! "Funk With a Capital 'G'" was another funky Gregg spotlight on keyboards...guest funky guitarist on this was Funk-Kin's own Billy Spruill! "Better Than Life/Shake Yer Rump" featured Gregg doing the chorus of Funkadelic's "Let's Take it to the Stage". The ending to this funk fest was "Cosmic Slop", featuring more of the fiery guitar soloing of John Hickey! It was over at 1:30am.




Cissy & Billy Spruill!




Dr. Brookenstein!!




Billy Spruill




Friend, Neil Hazel-Knox (formerly of NYC's Nappyhead Funk Army)





Click here for pictures of The John Hickey Band

<![if !supportLineBreakNewLine]>
<![endif]>
<![if !supportEmptyParas]> <![endif]>
---


Submit suggestions or comments to david.brooks@brookenstein.com