TM STEVENS & LIVING COLOUR
At the Count Basie Theater - Red Bank, NJ (2/20/04)
---
(Thanks to Tim Emgushov for his photo contribution to this review!!)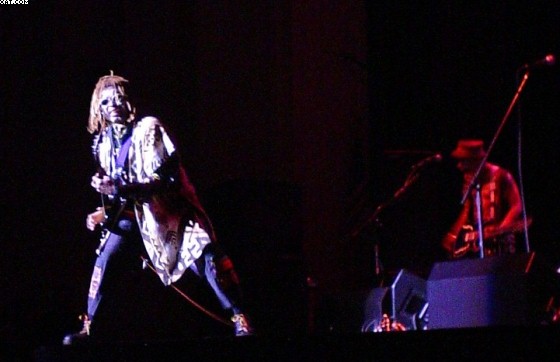 The super-lethal bassist, TM STEVENS and nasty guitarist P.M. EATON!!
<![if !supportLineBreakNewLine]>
<![endif]>

PERSONNEL:
<![if !supportLists]>1.

<![endif]>
TM Stevens - lead vocals, O.O.C. bass
<![if !supportLists]>2.

<![endif]>
P.M. Eaton (of DA PHUNKY MAN) - nasty guitarist, vocalist
<![if !supportLists]>3.

<![endif]>
Gary Sullivan (of Bernie Worrell & the WOO Warriors) - power drummer
<![if !supportLists]>4.

<![endif]>
Kirk Douglas - OG guitarist



At 9:20pm, the power of the bass phenom TM Stevens started with the Middle Eastern vibe of the mid-tempo rocker, "No Good Without the Bad".....it was a trip to see 2 guitarists onstage, P.M. Eaton **AND** Kirk Douglas (!!) That was followed by a jam where TM had the audience singing "We Want The Funk, Gotta Have That Funk", and listening to the ultra-funky, nastiness of his bass was too much! Raw guitar power was the name of the game on "Go My Way" (thanks, Kirk and P.M.), which featured P.M. on the guitar vocoder effect! TM represented his roots well with a James Brown tribute, "Soul Power/Sex Machine" where he had two women onstage shaking their asses when fans cried "Shake your moneymaker!" (Personally, I don't think that they shook that much......I know some girls that can shake it harder!) The power drum solo by the G-Man (Gary) was killa.........the G-Man is in effect, as always!!"Maximum Respect", the reggae-rock experience, was followed by the mellower "The River Flow". "Shocka Zooloo" was so good that I just had to stand up and get my groove on (the theater is ALL seats........BAD idea for a funk/rock show.........ya heard?!) The best part of the show was "Thumb".......the fast, slap bass workout was enough to give the average listener permanent brain damage........all the solos (drum, bass & guitars) were killer solos.......these guys didn't come to play! "Hair/Raw Like Sushi/Boom" (THE SQUEEZE) was another lesson in "deep, gutbucket bass riffs/aggressive, in-your-face, take-no-prisoners blend of nasty guitar rock, heavy bass & drums/strong melodic rock with a punk-rock ending (respectively, of course)! The set was over at 10:30pm.

Click here for pictures of TM Stevens




LIVING COLOUR: Vernon Reid, Corey Glover, Doug Wimbish & Wil Calhoun!!
<![if !supportLineBreakNewLine]>
<![endif]>
PERSONNEL:
<![if !supportLists]>1.

<![endif]>
Vernon Reid - guitar, vocals
<![if !supportLists]>2.

<![endif]>
Corey Glover - lead vocals
<![if !supportLists]>3.

<![endif]>
Doug Wimbish - bass, vocals
<![if !supportLists]>4.

<![endif]>
Wil Calhoun - drums



At 11:15pm, Living Colour started their set with the rockers "Memories Can't Wait" and "Middle Man". "A ? of When" was some burning metal shit, thanks to Vernon & Doug! "Operation Mind Control" and "Funny Vibe" were followed by............"Glamour Boys" (!) Yes, "Glamour Boys"!! (Why "Glamour Boys"?? Possibly one of the weakest songs that they have done.......I guess the guys wanted to try something different to throw the fans off) "Glamour Boys", the reggae-influenced pop/rock tune sounded good, but Corey forgot a good bit of the lyrics........Corey later said (joking/paraphrasing): "How the hell I supposed to remember the words to that shit?!" "Bi" was full of some nasty, high-pitched guitar wailing. "In Your Name" was followed by AC/DC's "Back in Black", where Corey forgot part of the lyrics in the second verse. "Time's Up" was a great rocker (with moments of punk energy), followed by "Sacred Ground", where Wil tore down the theater on some wild drumming!! "Flying" featured some of Doug's funky, make-you-wanna-sweat bassisms.........that was followed by "Love Rears Its Ugly Head" (where somebody in the audience shouted out "Wedding March" when Corey got to that famous lyric). "Ignorance is Bliss" was followed by "Type". "Type" was da bomb with the guys slowing down the song a lot for the first bridge "Everything that goes around comes around". Vernon did some reggae singing (some different lyrics) and Corey jumped in with some of his reggae-flavored, almost baritone, raspy-sounding vocals.....then the guys went back into "Type" with the "Everything that goes around...." part for the rest of the song! "The Cult of Personality" was the electrifying ending to a wonderful night. The show was over at 1:00am.

<![if !supportLineBreakNewLine]>
<![endif]>
<![if !supportEmptyParas]> <![endif]>
---
Submit suggestions or comments to
david.brooks@brookenstein.com