MILO-Z
At the Red Lion Pub - NYC (8/16/06)
<![if !supportEmptyParas]> <![endif]>
---


NYC's funk king, Milo-Z!!!
<![if !supportLineBreakNewLine]>
<![endif]>
The second Milo-Z set began at 12:15am with the funky Average White Band classic "Pick Up the Pieces" featuring the nastiest brass ensemble in New York City...I'm talking about Thomas Hutchings Jr. on sax, Kareem on sax and Richard Lee on trumpet!!! The ultra-funky JB's cut "Pass the Peas" was another horny funk romper..these guys really put in some work for this set!! "Body" was good with the vocals of the funk captain Milo-Z and solid basslines of Smokin' Joe Copeland, along with a hot trumpet solo (provided by Richard, who was walkin' through the audience)!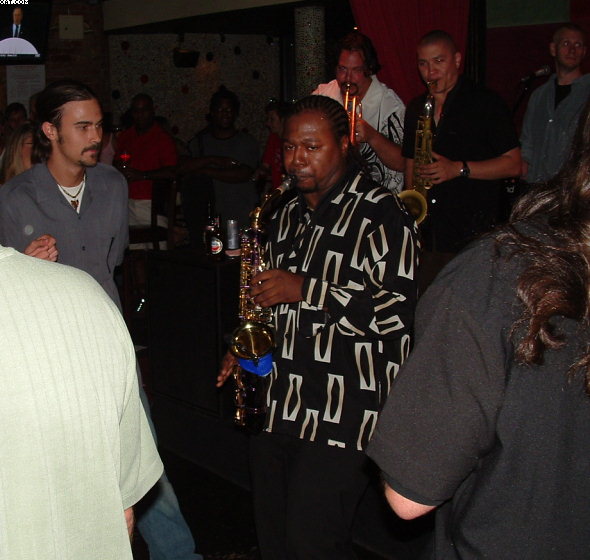 Kareem (saxophonist) is getting down with the fans!


"Love is Food" was great with some delicious lead guitar riffs by Singh and powerful sax riffs by Thomas and Kareem! "Korrina" was super-funky with the synthesizer riffs by Dave. "Reefa Man" (featuring the funny, falsetto "Reefa man" calls of saxophonist Kareem) and the love ballad "Sweetness" were the last two songs that ended the set at 1:10am.

<![if !supportLineBreakNewLine]>
<![endif]>
<![if !supportEmptyParas]> <![endif]>
---


Submit suggestions or comments to david.brooks@brookenstein.com