Neville Brothers
At B.B. King's Blues Club - NYC (6/20/03)
<![if !supportEmptyParas]> <![endif]>
---


Funky keyboardist of the Neville Brothers, Ivan Neville!!!
<![if !supportLineBreakNewLine]>
<![endif]>
At 8:00pm, the New Orleans (or N'awlins) funk started with the Neville Brothers kickin' with some "Hey Pocky A-Way"......a serious N'awlins funk groove that commanded everybody in B.B. King's to party like it's Mardi Gras time!! Cyril Neville began singing some of Dr. John's "Walking on Guilded Splinters"!
The meaty bass riffs was the start of the Aaron Neville mid-tempo groove "Voodoo"!
One of the best songs performed was the hard-hitting funk tune "People Say", with Ivan Neville on lead vocals!!
"Tipitina's" was a great jazz tune with some good sax riffs by Charles Neville and organ riffing by Ivan! "Valence Street" was a good jazz instrumental featuring saxophonist Charles.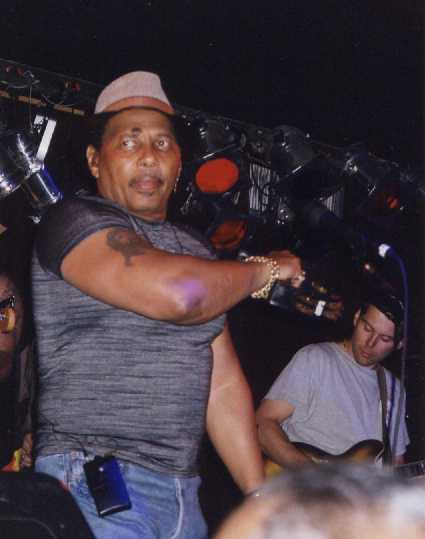 The man with "da voice"......Aaron Neville!!



Aaron began doing his mini-suite of R&B tunes....."Wildflower", "Everybody Plays the Fool", "Tell It Like It Is" and another R&B song. "Redemption Song" was a refreshing reggae "peace" song, sung by percussion master Cyril.
"Just For The Funk of It" was another great funk piece that got everybody pumped....this song is from an album by Cyril Neville and the Uptown Allstars!
"Big Chief" was the first encore song and it was all pure-funky Mardi Gras fun!
Things slow down with Aaron doing the gospel standard "Amazing Grace". "One Love" (originally by Bob Marley) was the last reggae song performed and every fan sung the chorus!!
The fun-filled show was over at 10:00pm.

<![if !supportLineBreakNewLine]>
<![endif]>
<![if !supportEmptyParas]> <![endif]>
---


Submit suggestions or comments to david.brooks@brookenstein.com