NAPPYHEAD FUNK ARMY: THE SPECIAL FORCES REUNION SHOW
At Da Funky Phish - Bay Shore, NY [Long Island] (8/23/08)
<![if !supportEmptyParas]> <![endif]>
---
<![if !supportEmptyParas]> <![endif]>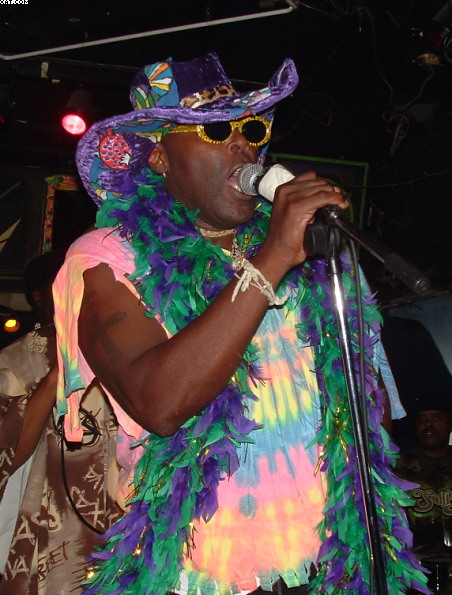 The fearless leader back in action, No. 9!!!
<![if !supportLineBreakNewLine]>
<![endif]>
At 12:55am, the Nappyhead Funk Army came to the stage for their reunion show (they've been gone for 4 years now) with the NHFA original "The Funk Army Mash", featuring the spicy synthesizer riffing of Prez and gutbucket funk bass lines of Mark Bass in the beginning of the song, not to mention the way that the funky drummer, The Technician, broke down on drums! The crew began the long process of vaccinating the crowd from the Sir Nose Syndrome by exposing them to the "Funk Infection 2008" ("Gonna be a funk infection, funkin' up the United States...gonna be a funk infection in the Year 2000 and 8")....did you get your shot yet?? Mark set up the nasty stank bass grooves for "It's What I Do, It's What I Am"! The Pearl shined on spaced-out, intergalactic synth riffs on "Fly on the Wall" (NHFA's first big song), while "Dirty Vamp" was a funk-rock extravaganza featuring Andy Lassalle blastin' woofers & tweeters on the lead guitar! "Cosmic Slop" was nice, featuring backing vocals by The Original Eric-Jay and Dr. Brookenstein...and lead vocals by No. 9 (of course, No. 9 did all the lead vocals for this show).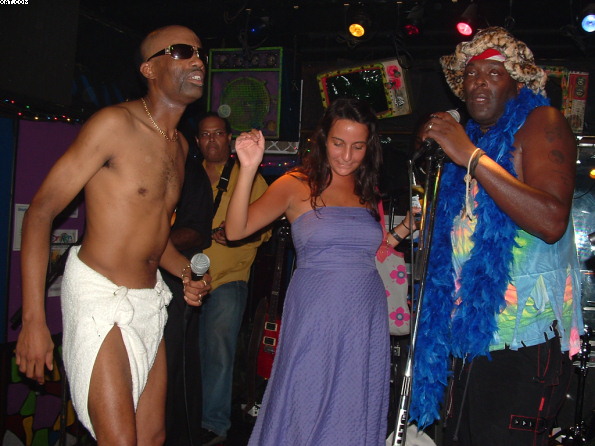 The Original Eric-Jay, birthday girl and No. 9!


"All Thangs (Being Funky)" was a nice treat, featuring funky scratch rhythm guitar grooving (similar to Funkadelic's "Let's Take It to the Stage") by Groovalicious. "Tear the Roof Off the Sucka" and "Pumpin' It Up/Atomic Dog" were very good, especially the ferocious lead guitar blasting by Andy on "Atomic Dog"! Interesting enough, the audience was required to sing "Sexy MF" (the entire M.F. word) because No. 9 didn't want to sing it (he re-dedicated his life to Christ 4 years ago). "Sexy MF" incorporated bits of James Brown's "Get on the Good Foot" and "Sex Machine". The performance of Kool & the Gang's "Jungle Boogie" was very lively, and I was very impressed with No. 9's vocal performance of Joan Osbourne's "One of Us" (YES, it's important that everyone knows God and The Lord Jesus Christ)!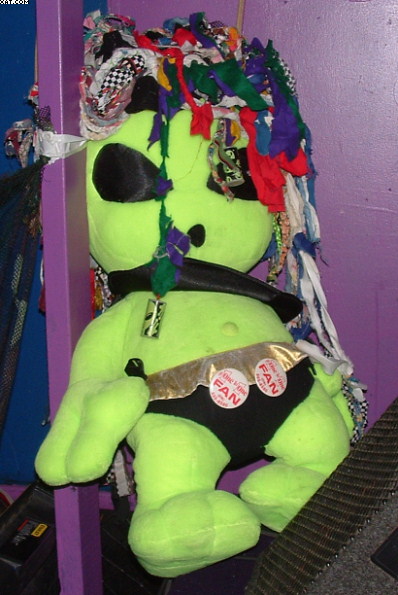 The Nappyhead Funk Army performed their encore song "Unfunky UFO", before wrapping it up at 3:00am.
<![if !supportEmptyParas]> <![endif]>
---


Submit suggestions or comments to david.brooks@brookenstein.com