ORIGINAL P-FUNK
At the Funk Box - Baltimore, MD (7/1/05)
<![if !supportEmptyParas]> <![endif]>
---


ORIGINAL P-FUNK MEMBERS: Gene Thomas, Emerald Davis, Rose, Fuzzy Haskins & Grady Thomas!!
<![if !supportLineBreakNewLine]>
<![endif]>
I arrived late to the venued at 10:20pm to see that Original PFunk was already performing....doing a P-Funk staple called "Standing on the Verge of Gettin' It On", incorporating the OP chant "The Funk is in the House". Lead vocalists Fuzzy Haskins and Grady Thomas sounded good, but Fuzzy was still gyrating in his OLD fishnet gear (DON'T WORRY, yours truly looked away to avoid going blind)! "Up For the Down Stroke" was followed by "Tear the Roof Off the Sucka", featuring some super-tight drumming by Ben Powers, Jr.!! "P-Funk (Wants to Get Funked Up)" was followed by the amazing "Cosmic Slop" featuring the blazing guitar army (Billy Mimms, Gene Thomas, Kevin Shider and Derrick Davis, on bass). It was Billy Mimms who started the guitar rock frenzy, while Derrick added so much raw bass riffs....enough to melt one's mustache! Kevin handled the tenor vocals (like brother Garry did) and Gene handled the "Ray" (bass) vocals.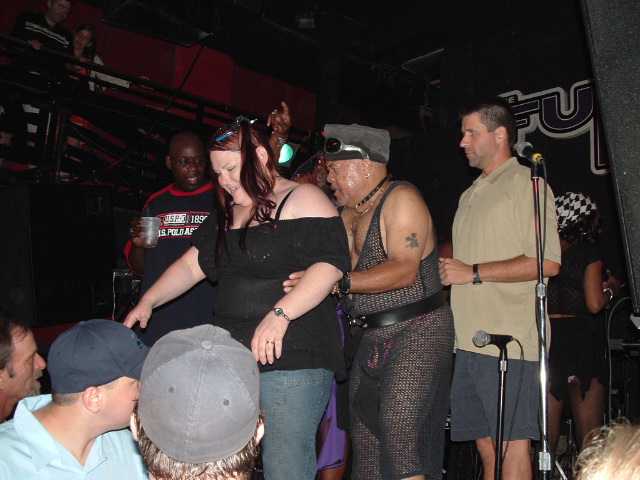 Doin' the ATOMIC DOG!!!


"Maggot Brain" sounded great with Gene and Billy on explosive lead guitarisms!! Apart from the guitar army, the keyboard riffs of Fly and Giles were very funky on "Red Hot Momma". "One Nation Under a Groove" was good, but the segment called "Stomp" was great because of the top-notch vocals of the SEXY O.P. ladies, Emerald Davis, Charlene and Rose! Original PFunk surprised the hell out of folks when they performed "Pussy"....it sounded very close to the original album version and Fuzzy (like on the album) handled the lead vocals!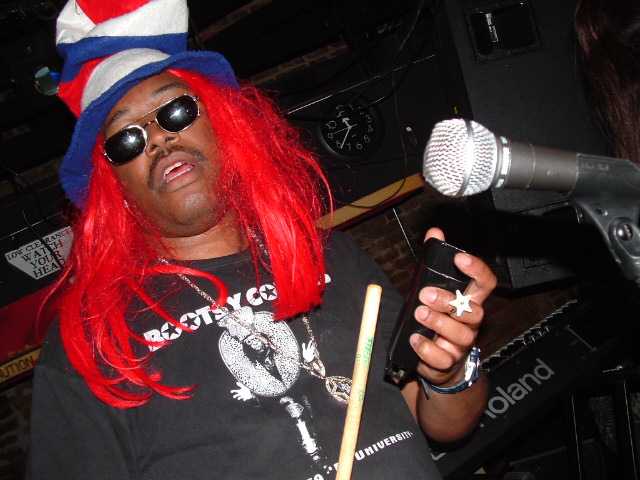 Dr. Brookenstein, on the cowbell on "Atomic Dog"!!


"Atomic Dog" and "Flashlight" were followed by the encore performance of "Take Your Dead Ass Home"....so funky with Gene and Kevin on lead vocals and Derrick on super-funky bass! "Mothership Connection" included a little bit of "Everything is on the One". The show ended with Derrick playing some funky bass licks of "Rumpelsteelskin" and another song at 12:00 midnight.

<![if !supportLineBreakNewLine]>
<![endif]>
<![if !supportEmptyParas]> <![endif]>
---


Submit suggestions or comments to david.brooks@brookenstein.com