GEORGE CLINTON & THE P-FUNK ALLSTARS
At the Musikfest - Bethlehem, PA (8/13/05)
<![if !supportEmptyParas]> <![endif]>
---


Friend John D. Wesley with the funk overlord, GEORGE CLINTON!!!
<![if !supportLineBreakNewLine]>
<![endif]>
At 8:45pm, it was time to experience the landing of the Mothership in merry ole Bethlehem.....the P-Funk Allstars started their set with "Alice in My Fantasies", followed by "Cosmic Slop", featuring Mike "Kidd Funkadelic" Hampton on blazing lead guitar soloing and Frankie "Kash" Waddy on some good drumming! "Funkentelechy" featured some red-hot lead guitar riffs by Dewayne "Blackbyrd" McKnight, and "Bop Gun" was the vocal spotlight for Mr. Steve Boyd! "Gamin' on Ya" was a welcomed addition to the set and sounded just as majestic and funky as the studio version. I think George Clinton actually came out during "Undisco Kidd", which included "The Way She Moves"....a great vocal spotlight for the beautiful Belita Woods! George started doing his rap on "Radio Friendly DJs Spinning For The Funk/Ain't Nothin' But a Jam Y'All" over the "Undisco Kidd" music....now, is it just me or is everyone sick of hearing this stuff (Radio Friendly DJs)?....I want to hear something with a little more substance, like "Theme From the Black Hole" and "Aqua Boogie".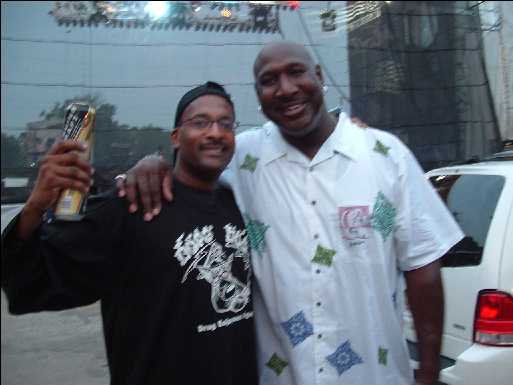 John D. Wesley with former Sixers basketball player, Darryl Dawkins!!


After a few verses of the vulgar "To the window, to the walls, to the sweat run from my balls", a little bit of "Get Off Your Ass & Jam" and a chorus/chant from "Tear the Roof Off the Sucka", it was on to an actual song, "Up For The Down Stroke". "Down Stroke" was the band's spotlight to REALLY give up the funk.....the band went into the JB's "Pass the Peas", with Lige Curry interjecting his funky swoop bass riffs and Poo-Poo Man handling lead vocals on James Brown's "Sex Machine". Greg Thomas did a great sax solo during "Sex Machine" and the drummer (I cannot recall my name) gave 150% on the skins!! Shonda Clinton did her raps on the mellow funk of "Somethin' Stink and I Want Some", and from there, the show went downhill for a bit....Kendra Foster did her lead vocals for the too-slow version of "Bounce to This", and "I'm Never Gonna Tell It" sounded horrible because it was still performed in the same boring, slow tempo (even the fact that Garry Shider was singing this song did not really help). The show finally picked up steam with "Knee Deep" featuring the great spaced-out synthesizer riffs of keyboardist Danny Bedrosian! Of course, the song segued into Belita's moment called "Sentimental Journey". The last song "Flashlight" was great with the funky, funky horns and the inclusion of the chorus of "Electric Spanking of War Babies", the chant from "Rubber Duckie" and the "Disco To Go" horn riff. The show was over at 11:00pm.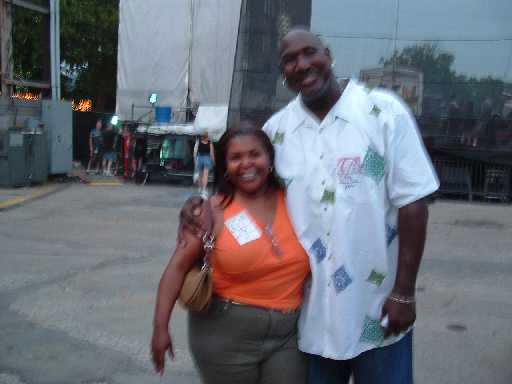 Friend Denise with Darryl Dawkins!!


The personnel:
<![if !supportLists]>·

<![endif]>
George Clinton - funk overlord, lead vocals
<![if !supportLists]>·

<![endif]>
Garry Shider - rhythm guitar, lead vocals, backing vocals
<![if !supportLists]>·

<![endif]>
Cordell "Boogie" Mosson - rhythm guitar
<![if !supportLists]>·

<![endif]>
Dewayne "Blackbyrd" McKnight - lead guitar
<![if !supportLists]>·

<![endif]>
Mike "Kidd Funkadelic" Hampton - lead guitar
<![if !supportLists]>·

<![endif]>
Lige Curry - bass
<![if !supportLists]>·

<![endif]>
Jerome Rogers - keyboards
<![if !supportLists]>·

<![endif]>
Danny Bedrosian - keyboards
<![if !supportLists]>·

<![endif]>
Frankie "Wash" Kaddy - drums
<![if !supportLists]>·

<![endif]>
(?) - drums
<![if !supportLists]>·

<![endif]>
Greg Thomas - saxophone, lead vocals
<![if !supportLists]>·

<![endif]>
Bennie Cowan - trumpet
<![if !supportLists]>·

<![endif]>
Michael "Clip" Payne - vocals
<![if !supportLists]>·

<![endif]>
Kendra Foster - lead vocals, backing vocals
<![if !supportLists]>·

<![endif]>
Belita Woods - lead vocals, backing vocals
<![if !supportLists]>·

<![endif]>
Steve Boyd - lead vocals, backing vocals
<![if !supportLists]>·

<![endif]>
Poo-Poo Man - lead vocals, backing vocals
<![if !supportLists]>·

<![endif]>
Ronkat Spearman - vocals
<![if !supportLists]>·

<![endif]>
Carlos "Sir Nose" MacMurray - dancer

<![if !supportLineBreakNewLine]>
<![endif]>
<![if !supportEmptyParas]> <![endif]>
---


Submit suggestions or comments to david.brooks@brookenstein.com