24-7 SPYZ
(w/ TM Stevens's Shocka Zooloo & Phunkyman)
At The Khyber - Philly (10/3/08)
<![if !supportEmptyParas]> <![endif]>
---
UPDATE: HELLO, FUNKATEERS...............PLEASE ENJOY READING THIS AND LOOKING AT THESE PICTURES BECAUSE THIS IS THE LAST REVIEW YOU WILL SEE FROM DR. BROOKENSTEIN........IT'S TIME FOR THE "GOSPEL OF FUNK"!!! THE NEW WEBSITE WILL BE UP AND RUNNING IN THE NEXT WEEK OR SO. TIME TO MOVE ON TO BETTER THINGS....THINGS FOR THE LORD!!!
<![if !supportEmptyParas]> <![endif]>




PHUNKYMAN, PHUNKYMAN.....ROCK THE PHUNK LIKE NOBODY CAN!!
<![if !supportLineBreakNewLine]>
<![endif]>
At 10:15pm, the PHILLY FUNK-ROCK EXTRAVAGANZA started off with the Philly funk-rock sound of the one and only PHUNKYMAN. The band had fans rocking to and fro with the songs "Testify" and "Here Comes De Funk", featuring the nasty stank force of hard slap-bass technique from Warren Davis and a nice sax solo by Jay Davidson!! "Guitar Slinger" was a showcase for nasty, hardcore Hendrix-style rock guitar shredding by PM (PhunkyMan himself).....during this song, everyone else got a chance to show off on their solos! "Trance" was a reggae-flavored ballad, featuring the very angelic voice of Dora Eaton. "Give Me Something I Can Use" was another rock guitar blast. "Funky Sunshine" was followed by the GOSPEL-ROCK/FUNK BLAST of "I Don't Know You", a cautionary song that warns everyone to get it right and learn to love Jesus AND one another! (THANKS PM, FOR THAT GOSPEL MESSAGE!) The Phunkyman set was over at 11:00pm.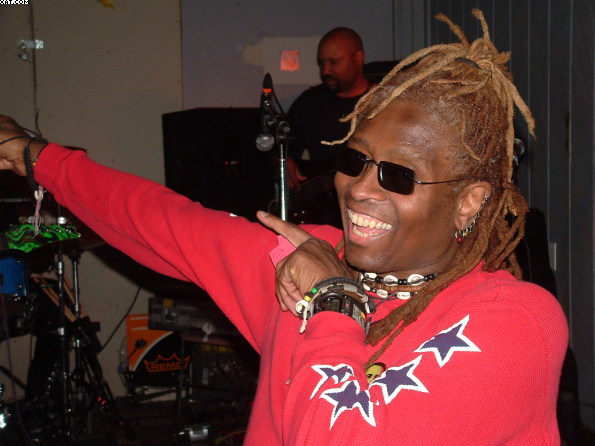 THE INSANE TM STEVENS, BABA!!!


Click here for pictures of Phunkyman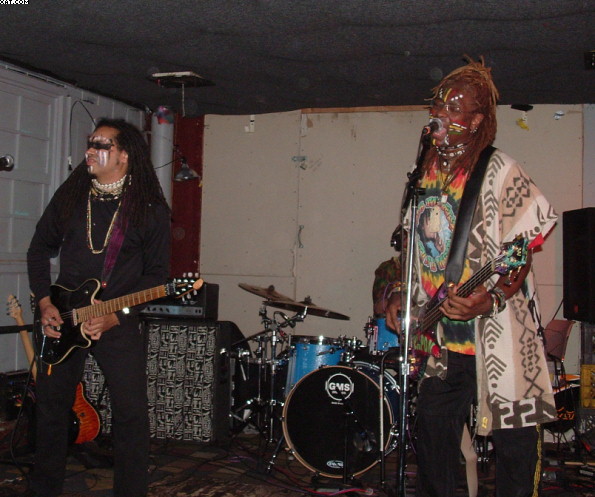 MIKE "MASTER BLASTER" BARNES & TM STEVENS!!


TM Stevens and Shocka Zooloo began at 11:40pm with a little bit of African rhythm music before the HEAVY CRUSHING, FUNK-ROCK BLAST of "What?" ALL THE FANS IN THE ROOM WAS ROCKIN' TO THIS HEAVY-DUTY STUFF....TM, YOU ARE DA BOMB, BABA!! Fans assisted TM with chanting the line "We Will Never Do That Again" for the song of the same name. Next was a long performance of "Go My Way", featuring Carlito on congas, a chant of "AFRICA - OBAMA", some fiery, smolderin' guitar wailing by The Master Blaster (Mike Barnes), and the lightning-fast, earthquakic, mind-bendering bass licks of TM Stevens!!!!!! "Mama Said So" was followed by the tribute to James Brown, "Sex Machine"...2 girls were invited to the stage to shake their moneymakers to the tune of Prince's "Sexy MF". The last song was the super-funky "Thumb", featuring the thunderous, lightning-fast, insane bass slappin' of TM (WHOA!!!!!!!!!!) and a powerful drum solo by a guest Zooloo member, Howard!!! The TM set was over at 12:20am.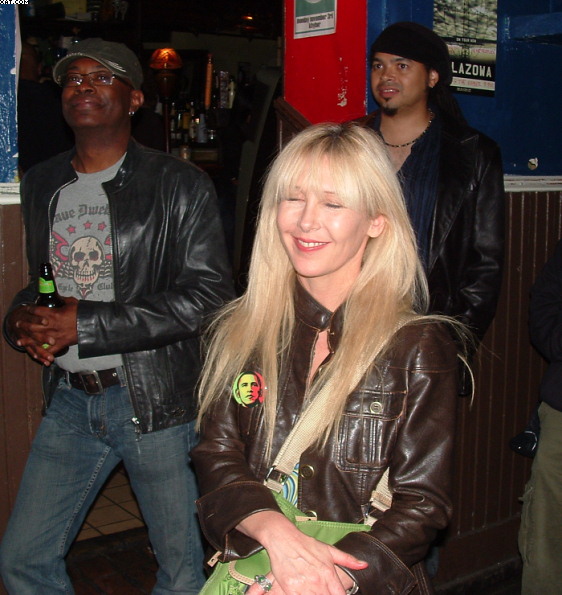 The spiritual, lovely Ms. Carrie Trystette, along with friends Jay Medley (formerly of Betty Whitetrash) and Mike "The Master Blaster" Barnes!!


Click here for pictures of TM Stevens & Shocka Zooloo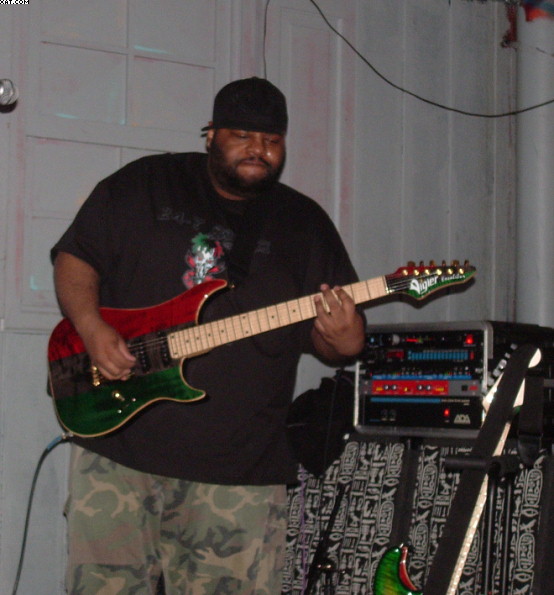 JIMI HAZEL, of 24-7 SPYZ!!


At 1:00am, 24-7 Spyz (from Da South Bronx, NYC) performed for the first time in Philly since 1996....unfortunately, this set was plagued with some technical problems, mostly from Jimi's guitar pedals and/or amp. The band started with "Face the Day", off their latest album of the same name. The fans that were left in the room (remember, they started at 1:00am) were totally into the hard-hitting funk-rock force of this NYC-based trio! Rick Skatore gave acknowledgement to TM Stevens for his incredible energy by trying to play bass like him (VERY THUNDEROUS, LIGHTNING-FAST SLAP BASS TECHNIQUE)....(I'm sure that TM was lovin' it!) Next was the popular tunes from the 1996 release HEAVY METAL SOUL BY THE POUND...the songs were "Yeah, Yeah, Yeah" and "Love and Peace". "Soul Sucker" was another loud, crushin' funk-rock force but Jimi's guitar went out during the breakdown of the song. Tobias Ralph was a force to be reckoned with, with some flashy, chaotic drum riffing during "Soul Sucker" and "Waiting For the Sun"!! "The Saturday Song" was nice.....yeah, because of the beautiful melodies & lyrics, but also because TM came out and planted himself on one of the speakers in front of the stage and watched Jimi play and sing. "Grandma Dynomite" was a crowd favorite....inciting three guys in the audience to start moshing (well, not for more than 10 seconds!) BY THE WAY, JIMI....IF YOU ARE READING THIS, YOU DID A GREAT JOB WITH "Heaven and Hell".... the intro was great and the rest of the song was great, BUT I HAVE ONE CRITICISM: You forgot to do P. Fluid's rapping during the chant "It's your time, it's up to you, now it's time to..." HA! HA! HA! HA! HA! HA! (Yeah, I know......YOU PROBABLY WOULD HAVE BUTCHERED IT!! HA! HA! HA! HA! HA!) "John Connelly's Theory" was nice, and so was "New Superhero Worship".....every fan in the audience was LOVIN' IT!! "Room #9" was the last funk-rock song in 24-7 Spyz's arsenal, before they had to vacate the stage at 2:05am.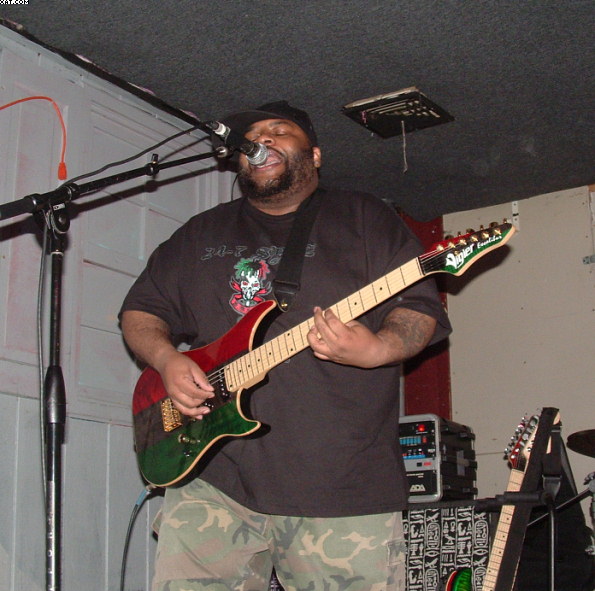 JIMI HAZEL!!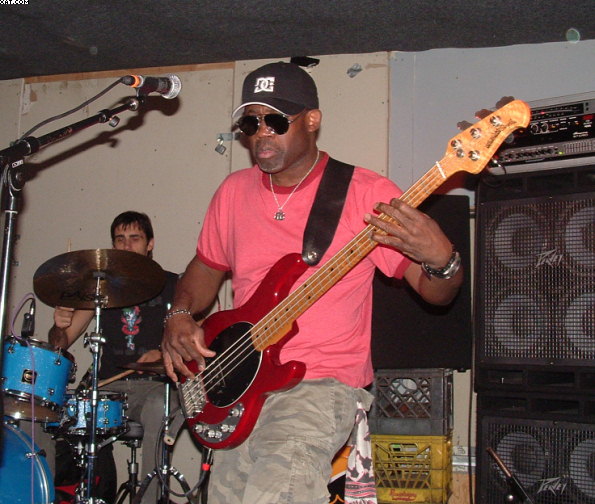 Tobias Ralph & Rick Skatore, of 24-7 SPYZ!!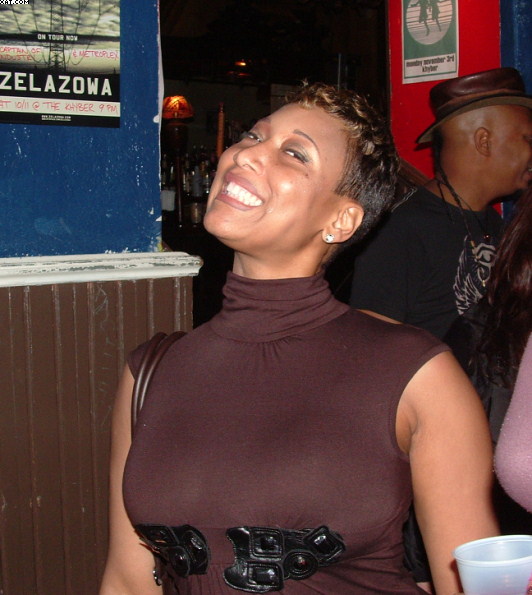 Drummer/vocalist Mary Harris!!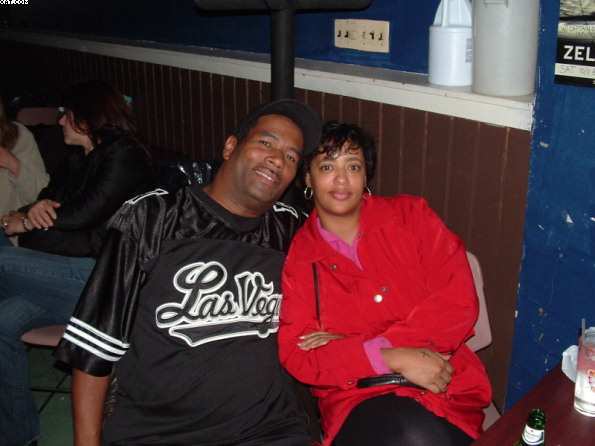 Hollen "Butch" Stewart and his wife


Click here for pictures of 24-7 Spyz

<![if !supportLineBreakNewLine]>
<![endif]>

<![if !supportLineBreakNewLine]>
<![endif]>
<![if !supportEmptyParas]> <![endif]>
---


Submit suggestions or comments to david.brooks@brookenstein.com