SOUL CLIQUE
At Tonic - NYC (12/14/00)
<![if !supportEmptyParas]> <![endif]>
---
<![if !supportEmptyParas]> <![endif]>


DJ Blackman with the lethal guitarist, Duminie DePorres!!!!
<![if !supportLineBreakNewLine]>
<![endif]>
At 11:25pm, Soul Clique started their funky set. Soul Clique is an offshoot band of Enemy Squad, consisting of E-Squad alumni Duminie DePorres (lead guitar, bandleader), Joe Heyden (bass), and Dan "Blackman" Harris (DJ), with Ken Scott on the drums.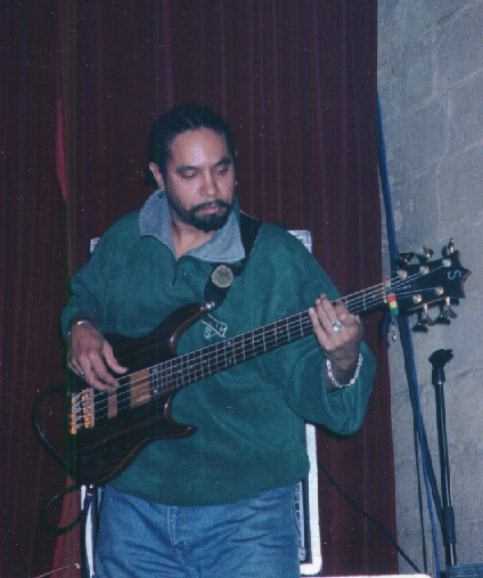 The bad-ass muthafunkin' bass player, Joe Heyden!!!!


The first song was a funky one with high-intensity drumming, funkafied-to-the-10th-power bass riffs, and a hot lead guitar line!! The sample played was a man instructing on how to test for perfect stereophonic sound (or some shit like that). The next tune was "Sleep Without...", featuring Duminie's funky lead guitarisms!! "Unification" started with a sample of Jimi Hendrix's "Purple Haze" (the first few guitar chords) and it contained the best SUPER-FUNKY, MIND-BENDING BASS GROOVES from the bass-master, Joe Heyden!!!! (THAT'S A BAD MUTHAFUNKA!!!) "Unification" also included some great turntable scratching by DJ Blackman and Duminie's soaring on lead guitar!!!! "Pick Yo'self Up!" followed with some hyper-drumming by Ken Scott, smelly & thumpin' bass, and lethal lead guitar jamming!!! "Armor" (I think that's the name of it) featured mo' kick-ass bass riffing and then some!!! Soul Clique ended with "Nourish", where the drummer breathed life into this otherwise boring album track......the bass riffing was over the top, too!!


Soul Clique ended their set at 12:25am. By the way, Soul Clique was recording this show live, possibly for an upcoming CD release.
<![if !supportEmptyParas]> <![endif]>

<![if !supportLineBreakNewLine]>
<![endif]>
<![if !supportEmptyParas]> <![endif]>
---


Submit suggestions or comments to david.brooks@brookenstein.com