STANLEY CLARKE
At Wiggins Park (Jazz Festival Series) - Camden, NJ (6/30/03)
<![if !supportEmptyParas]> <![endif]>
---
<![if !supportEmptyParas]> <![endif]>
NOTE: SPECIAL THANKS TO BOB DAVIS (of SOUL-PATROL.COM) FOR THE SNAPSHOTS!!!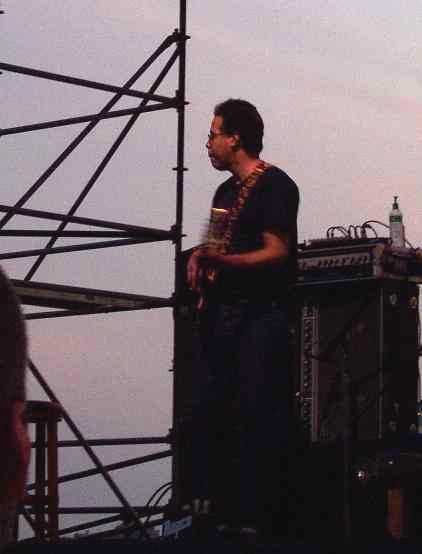 <![if !supportLineBreakNewLine]>
<![endif]>

Jazz bass legend STANLEY CLARKE graced his hometown (Philly) fans with a superb-funky concert at Wiggins Park, on the Camden, NJ waterfront. It was around 8:20pm that the concert began with some of the funkiest "rhythm guitar-like" bass riffs ever heard on earth by the amazing STANLEY!!! The second song was a very good rendition of Janet Jackson's "Funny How Time Flies (When You're Havin' Fun)". The next song was more of a jazz selection with some jazz-influenced keyboards by Nick Smith and some tight drummingby Gerry Brown.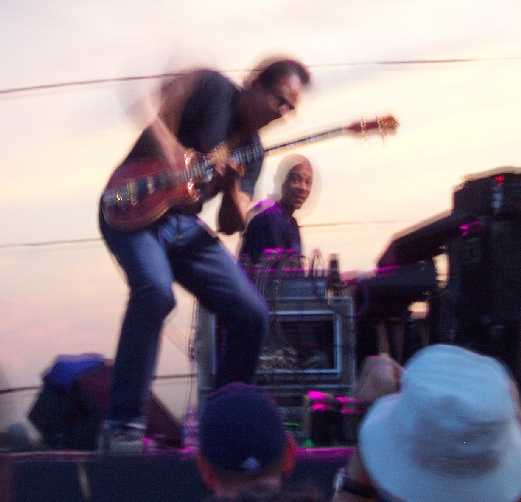 Stanley Clarke began to introduce his musicians.........here are the highlights:
<![if !supportLists]>1.

<![endif]>
The violinist, Mads Tolling, was absolutely in a whole 'nother zone with some crazed, fast-paced string riffs!!
<![if !supportLists]>2.

<![endif]>
Bassist Armand Sabal-Lecco was a fierce super-funk bass machine with some insane thumpin' and pluckin'.....think of most bass players BUT ON CRACK!!! (TM Stevens, are you there?) The brother was so fierce that he had to stop for a second to take a breath (and re-adjust his guitarstrap), before going back into his psychotic bass romp. Soon, Stanley joined in and it was just too, too much for some funkateers to handle!!!
<![if !supportLists]>3.

<![endif]>
Keyboardist Eric Carter played a lot of different synthesized sounds......phasers, hi-frequency noises, turntable scratches, and spacey/cosmic synthesizer riffs!!
<![if !supportLists]>4.

<![endif]>
Gerry Brown was an unstoppable force on the drums!!






"Lopsy Lou" had a great drum ending, while "Goodbye Pork Pie Hat" featured Mads on some more fierce violin stuff.........it was so fierce that one of the strings on his stick popped!!Stanley brought out the bass cello for his next song, "Touch"....this guy was doing some seriously fast & funky, heavy-handed pluckin' and thumpin' on the cello!!!
"School Days" was an absolute winner....some funky stuff with a rock tinge. (Stanley doin' some rock???!) with some funky guitar-type rocking by the amazing Stanley!!
It was time for the encore and that song was................................"Mothership Connection (Starchild)"!!!!! THAT'S RIGHT FANS, IT WAS TIME FOR THE P-FUNK, BABY BABA!! It was so good, just like the original track, with the band locking in on the groove tighter than a 16-year-old female virgin!! As a bonus, Stanley and Armand started throwin' down on a different groove called "Do That Stuff" (another P-Funk goodie). Many fans were singing the chorus of "Mothership Connection" but (from where I was standing) only I was singing the refrain of "Do That Stuff" ("I wanna go back and get...more of that funky stuff! I gotta get some more of that....more of that funky stuff!")


The fun was over at 9:50pm.

<![if !supportLineBreakNewLine]>
<![endif]>
<![if !supportEmptyParas]> <![endif]>
---


Submit suggestions or comments to david.brooks@brookenstein.com