TM STEVENS
At the Brighton Bar - Long Branch, NJ (4/01/05)
<![if !supportEmptyParas]> <![endif]>
---
<![if !supportEmptyParas]> <![endif]>


THE BRIGHTON BAR: (born) 1985 - (deceased) 2005

<![if !supportLineBreakNewLine]>
<![endif]>
Yes, the Brighton Bar is NO MORE.....this is due to what happened on April 1, 2005.........


At 12:00 midnight, TM Stevens & the Shocka Zooloo Band began their special brand of funk-rock slammin' with an intro song that was reminiscent of "It's All Good" (from the STICKEY WICKED album). The next song was a new tune (the name of it I forgot) that was as funky as a TM track can possibly be, followed by the funk-rock remix of "Why Do You Treat Me This Way". "Shocka Zooloo" featured some nasty bass workouts by TM...I believe it was TM doing some almost "lead-guitar" riffing towards the end. "Go My Way" was the beginning of the end of the Brighton Bar....with some pyrotechnic guitar bombs by Mike "Master Blaster" Barnes, seismic drum power soloing by Gary "G-Man" Sullivan (if he was playing in the Thailand area last December, that was probably the reason behind the massive earthquake and resulting tsunami!), and some psychotic bass romps by Doctor of Bass Funk, TM!! All of this stuff on "Go My Way" was accompanmied by some African vibe conga playing by percussionist Carlos!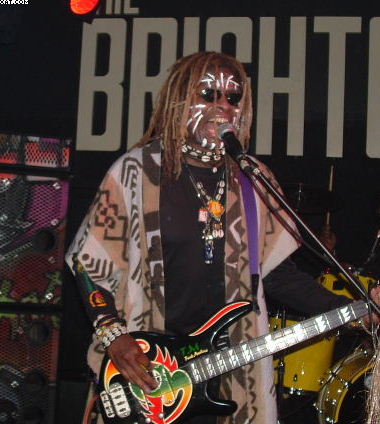 TM STEVENS, mastermind of the Shocka Zooloo....yea mon, represent!!!!


"To The Max" was some more great stuff, featuring part of the song "Bustin' Loose" and the "Tear the Roof OffThe Sucka"....Dr. Brookenstein was in da house providing additional vocals, as well as many others who were onstage dancing or singing! The Bomb Squad frontwoman and former WOO Warrior/Deep Banana Blackout frontwoman Jen Durkin was in da house (on her birthday) and she sang a good bit of "Bustin' Loose"!!! As the club began to shake from the high-octane funk-rock, the worst happened....the band began playing a monstrous version of "Thumb"...talk about ultra-funk bass quaking/booties uncontrollably shakin' while the Master Blaster soared through the heavens with some ear-splittin' guitarisms and G-Man waking the neighbors with some deadly drum force...it was enough to start a fire in that club!!! After some jamming, it was time to ask "What About Love", which fanned the fire even more! As people were trying to flee the growing inferno, IT HAPPENED.....the band decided to do the ultimate (NOT "Hair")............................."BODY BAG"!!!!!!!!!! The megaton crushin' force of TM's bass and the supersonic guitar blasts were enough to level the place, leavin' a smolderin' hump of brick and wood!! It was ALL over at 1:45am.


Well, as I looked back to that night (thinking "This is the best show that TM & Shocka Zooloo has done!"), I cannot help but remember a phrase that was uttered some time ago about these guys:
BEWARE OF BLACK GUYS WITH GUITARS!!! IF YOU SEE THEM, HEAD FOR THE HILLS 'CUZ IT WON'T BE PRETTY!!!!!!!!!

<![if !supportLineBreakNewLine]>
<![endif]>
<![if !supportEmptyParas]> <![endif]>
---


Submit suggestions or comments to david.brooks@brookenstein.com