TM STEVENS & SHOCKA ZOOLOO
with 24-7 SPYZ
At the Crash Mansion - NYC (6/15/06)
<![if !supportEmptyParas]> <![endif]>
---
<![if !supportEmptyParas]> <![endif]>


24-7 Spyz's Rick Skatore shows love for lethal bassist, TM Stevens!!


THIS WAS THE NIGHT!!

Two powerful fources joined together to form the 9th Wonder of The World!! People said that it couldn't be done...that it was impossible. But just like people said you couldn't split jeans (or maybe it's "genes") or that the world is flat, they were proven wrong! Of course, with the combination of two strong forces, there are almost always some risk of disaster (like the different two air masses--cold, dry air & warm, moist air--that forms tornadoes). People came from near and far to witness something very exciting but potentially devastating--to the Crash Mansion (a fitting name AFTER THIS EVENT!) Almost every R&B/hip-hop fans that checked out the first two acts left the building before the event began...probably they were too sissified to stay and learn what a real performance is....hey, cookie cutter R&B and rap nonsense ain't gone cut it...you gotsa have meat on the bones (I mean REAL MUSIC...the funk too, baby baba!!) Anyway, the brave folks (the true music lovers) that stayed witnessed the union of ............. (drum roll, please)..................24-7 SPYZ ....... and........TM STEVENS!! (everyone sigh in unison)




HEAVY METAL SOUL guitarist/vocalist, Jimi Hazel!!
<![if !supportLineBreakNewLine]>
<![endif]>
The guitar gods were smilin' as 24-7 Spyz took it to the stage at 10:30pm with a classic...."Love For Sale", featuring lead vocals and guitar blazin' by Jimi Hazel. Rick Skatore was cookin' on the bass for "Face The Day" "Yeah x3" featured some of the busiest drumwork ever by Tobias Ralph! The drummer was tight as a MF when he broke it down during the instrumental break of "Soul Sucker". "Waiting For the Sun" was a pulverizing metal rock tune, followed by the slower, melodic "The Saturday Song" which featured a hot drum solo. The next song was a metal song that featured some thrash metal during part of the hook. The next song started with Tobias doing a fast four-count drum riff followed by a blast of gothic-sounding guitar and bass riffs...this was done four times before going into the song. The last 2 songs were metal funk, the latter featuring interesting scratch guitar riffs and a drum/bass spotlight featuring Rick playing some funk and jazz bass riffs. Part one of the historic event was over at 11:25pm.


Click here for pictures of 24-7 SPYZ




HEAVY METAL FUNK bassist/vocalist extraordinaire TM Stevens with Jimi Hazel!!
<![if !supportLineBreakNewLine]>
<![endif]>
At 11:50pm, it was TM Stevens & Shocka Zooloo's turn. TM said once "BEWARE OF BLACK GUYS WITH GUITARS!!!" He is correct because his hand picked up where the Spyz left off. 24-7 Spyz may have created some structural damage to the Crash Mansion, but TM and his band were there to take out the foundation. Shocka Zooloo started withe a new song called "California", a heavy funk-rock tune that featured all of the musicians alternating with solos (towards the end). For the nasty metal-funk tune :"Mama Said So", TM had the fans participate in a call-and-response. "Turn Me On", "I'm a Believer" and "Shocka Zooloo" were scorchin' funk metal songs, especially with teh pyrotechnic guitar blasts of the Master Blaster, Michael Barnes, and the slap-bass assaults by the one and only TM Stevens! The mellower "The River Flow" featured TM on poppin' & walkin' bass and Michael on a smokin' lead guitar solo!!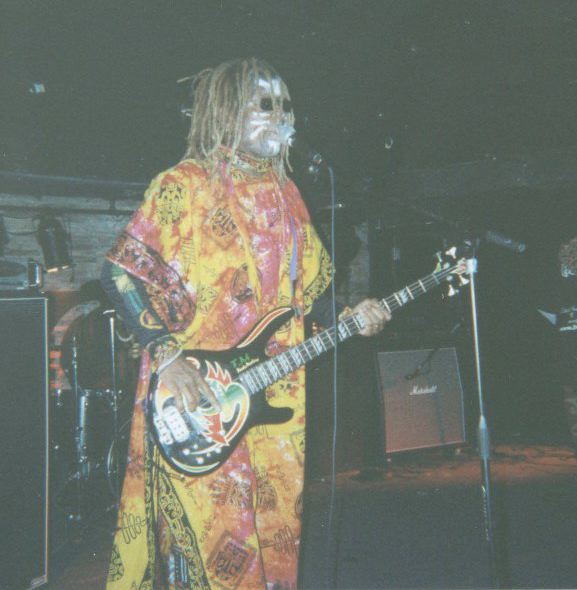 UHHH, WE LOVE DR. TM, YOUR FUNK IS THE BEST, BABY BABA!!!!


The foundation of the Crash Mansion did a major shift on the next song "Thumb"...with TM poppin' the bass so fast that his hands disappeared...and Michael was shadowing him on guitar!! (SO MUCH POPPIN', YOU'D THOUGHT IT WAS POPCORN, BABY BABA....BUT IT'S NOT!!!!!!!!) TM went into psychotic mode, playing poppin' bass, slap bass, funk bass, bass sounds resembling bongos (????!!!!!!!!!????)....he played fast, he played slow. TM shook the building to rubble after that bass workout. Drummer T.C. Tolliver was killin' on the drum solo!! "Raw Like Sushi" was dedicated to the guys in 24-7 Spyz. "What About Love" was the final funk-metal song of the night. Part two of the historic event ended at 12:50am.<![if !supportFootnotes]>
---
<![endif]>

<![if !supportLineBreakNewLine]>
<![endif]>
<![if !supportEmptyParas]> <![endif]>
---


Submit suggestions or comments to david.brooks@brookenstein.com