TM STEVENS & SHOCKA ZOOLOO
(with FUNKFACE)

!!!! TM STEVENS'S CD RELEASE PARTY !!!!
At Snitch - NYC (7/7/07)
<![if !supportEmptyParas]> <![endif]>
---




Guitarist 40 oz. Jeff & lead vocalist Luqman Brown!
<![if !supportLineBreakNewLine]>
<![endif]>
At 10:50pm, it was time for NYC's punk-funk-rock band FUNKFACE to hit the stage. THIS WAS A VERY SPECIAL EVENT...THE CD RELEASE PARTY FOR TM STEVENS'S NEW ALBUM "AFRICANS IN THE SNOW"...BY THE WAY, IF YOU DON'T HAVE IT YET, BUY IT!!! (IT IS A REAL SMOKER OF A HEAVY METAL FUNK ALBUM!!!) Funkface started with a new song (I don't know the name of it) followed by the raw, swamp-infested funk sounds of "Down in the Bayou"....lead guitarist Jerome Jordan threw down some of the heaviest rock chords during this show! "I Against I" (a Bad Brains tune) was way powerful (in a punk-rock vein) and was followed by "Broken Toys" and "Time", which featured a good guitar solo by Jerome! "Something's Goin' On" got all the fans on their feet rockin' and chantin'! "Lickshot" was a scorchin' heavy metal extravaganza and "Zoo York City" was too lethal, with the high-energy pounding of Ramsey Jones on the drums! The Funkface set was over at 11:30pm.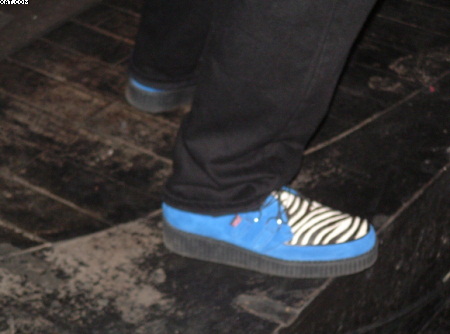 Click here for pictures of FUNKFACE






TM Stevens invites Ramsey Jones to the stage for some fun(k)!
<![if !supportLineBreakNewLine]>
<![endif]>
At 12:00 midnight, the headliner TM Stevens & Shocka Zooloo began their fierce 50-minute set with a little African rhythm interlude before leaping into the fiery depths of heavy metal funk madness called "What?" (yes, TM Stevens was back in the Big Apple, kicking some serious ass and takin' no prisoners!) Following that was another funk-metal scorcher called "We Will Never Do That Again" (where the audience was chanting the song title repeatedly). My favorite metal-funk tune "Mama Said" was performed with the same ferocity....I love the loud crunching guitar wails of the Master Blaster (Michael Barnes) and the heavy drumming style of T.C. Tolliver! And let's not forget, Carlos was doing a good job on congas....especially during his solo! Saving the best for last, no one can be as superbly funky and diabolically metal on the bass (at the same time) like TM STEVENS!!!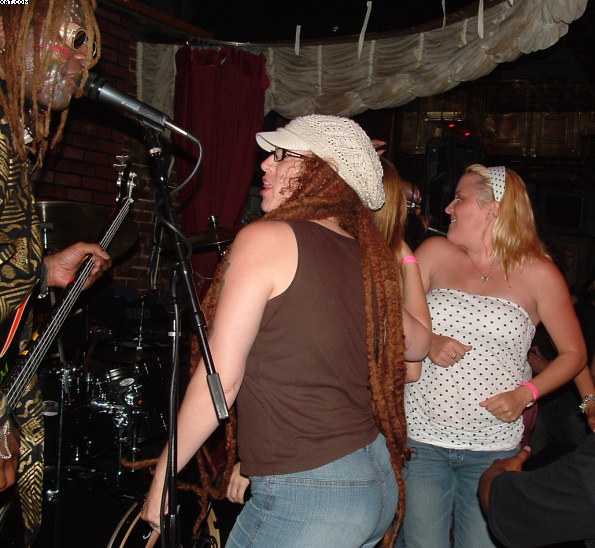 TM Stevens went into a small tribute to James Brown, by performing a little bit of one of his songs (I think it was "Sex Machine" but I cannot remember)....this is the part of the show where he invited members of Funkface to the stage... it was funny seeing Ramsey Jones and Jerome Jordan jumping from the stage and doing splits!! TM did a little bit of "Sexy MF" (with some white girls onstage shakin' their asses). For a solo, TM did his signature bass riffing, playing notes at the speed of light! The song "Only You" was dedicated to friend/singer, BJ Nelson (who was in the audience). For the reggae-inflicted metal-funker "Maximum Respect", TM invited a guy named ZG to the stage to do some of the lead vocals. Gary "G-Man" Sullivan was also onstage doing backup vocals, along with the Master Blaster! The show unfortunately ended quickly at 12:50am, but the band and the fans celebrated the birthday of Michael Barnes, Jake and B.J. Nelson.
T.M. ROCKS !!!!!!






Carrie Trystette




Ramsey Jones, Michael Barnes & Luqman Brown




G-Man & Michael Barnes




ZG




Friends Eric J. and Cynthia Pierce




7-07 is the birthdate of BJ Nelson & Michael Barnes




Birthday boys/girl BJ Nelson, Michael Barnes & Jake!



Click here for pictures of TM Stevens & Shocka Zooloo

<![if !supportLineBreakNewLine]>
<![endif]>
<![if !supportEmptyParas]> <![endif]>
---


Submit suggestions or comments to david.brooks@brookenstein.com