VICTOR WOOTEN
At TLA - Philly (4/18/05)
<![if !supportEmptyParas]> <![endif]>
---


Clockwise from bottom left corner: funk journalist Dr. Brookenstein, R&B/funk journalist Bob Davis (of Soul-Patrol), MC Divinity, Victor Wooten, Joseph Wooten, Soul-Patrol's Philly coordinator Eddie Bowman, JD Blair, Regi Wooten, Saundra Williams, and Derico Davis.


BY THE WAY, I WOULD LIKE TO THANK
SOUL-PATROL'S BOB DAVIS & EDDIE BOWMAN
FOR BEING IN DA HOUSE AND MAKING MY NIGHT EVEN FUNKIER!!! REMEMBER FOLKS, SUPPORT SOUL-PATROL IN THE QUEST TO PRESERVE QUALITY MUSIC....GO TO THE SITE Victor's bass solo on the next song was cookin' and he did another solo with guitarist Gerald Veasley. Victor performed "Ari's Eyes", a nice slow song. "Victa" was dedicated to Mr. Victor Wooten...it was bassirific.....nuff said! There was a great percussion solo by JD Blair!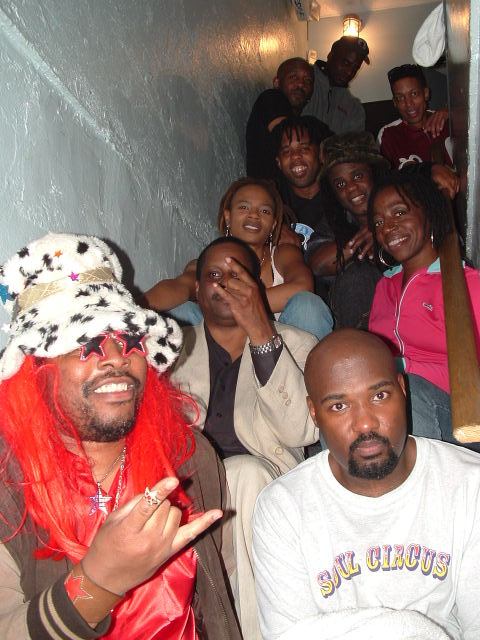 Another funky picture, baba!!


The encore featured a mini-movie about the 8 Arm Bass Playing Myth, featuring an interview with Victor Wooten....Victor asked a series of questions, answering with a reference to "8" for each answer...the quick flick ended with Victor's "third" arm flashing the OK sign to the audience! The music afterwards was a medley of serious hard-hitting funk, a positive R&B message song by Saundra, some wicked synthesizer keys, eight-arm bass playing, blasting lead guitar plucking, psychotic-sounding mid-tempo song called "Thelonius Monk", and Victor's visual tricks of:
<![if !supportLists]>1.

<![endif]>
swinging the bass around his neck, catching it and playing it.
<![if !supportLists]>2.

<![endif]>
lifting the bass over his head, playing it, dropping it to his chest, and playing it.
<![if !supportLists]>3.

<![endif]>
using a bass like a yo-yo, by sliding the bass outward (making a loud thump on the floor) and pulling it back with a free guitar string, yanking it up, catching it, and playing it.
<![if !supportLists]>4.

<![endif]>
playing a bass where the neck lights up in neon blue with every riff (the lights were turned off for this trick).
<![if !supportLists]>5.

<![endif]>
holding his bass horizontally while Regi holds his guitar horizontally, and two played the other's instruments simultaneously.
<![if !supportLists]>6.

<![endif]>
leaning forward about 65 degrees (near-levitation stance) while playing the bass.



WHEW!!! The journey was over at 12:00 midnight. After meeting the guys backstage for photo ops, congrats and autographs, I left for home...and passed out at the crib. THE END.

<![if !supportLineBreakNewLine]>
<![endif]>
<![if !supportEmptyParas]> <![endif]>
---


Submit suggestions or comments to david.brooks@brookenstein.com