VOX POPULI
At Murray's Inn - Wilkes-Barre, PA (10/27/01)
<![if !supportEmptyParas]> <![endif]>
---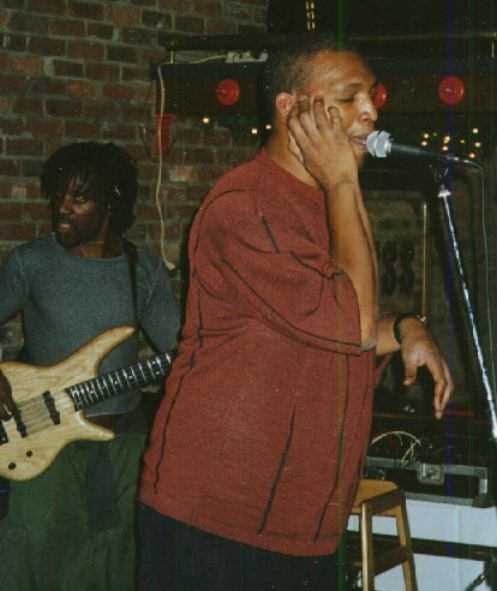 Bassist Patrice & lead vocalist Dean Bowman!!

<![if !supportLineBreakNewLine]>
<![endif]>
At 10:10pm, Vox Populi (headed by former Screaming Headless Torsos vocalist Dean Bowman, and supported by Dave Fiuczynski (Torsos guitarist) started their set in Wilkes-Barre, PA. (Let me caution you: Wilkes-Barre is probably a nice place to visit to see the mountainous scenery....but don't expect anything else. Like Albany, NY and some other places, it's a VERY sleepy city) "My Mind is a River" was a very good funk-rock piece with some tight drumming by Skoota Warner (Kelli Sae drummer), funky double-necking guitaring by Dave, and excellent vocals by Dean!! "Word to Herb" (a Torsos song) was a good jazz tune where Dave goes off completely on some wicked guitarisms!! During the break, Skoota displayed some freakout energy on the skins! The band did a tribute to basketball legend Darryl Dawkins, with some flashier drumming (more cymbals) and some "out-of-this-world" guitar wickedness!! I don't remember the name of the next song, but I remember Dean doing some hilarious ramblings, including singing "Singin' in the Rain" (an OLD classic)!! "No Survivors" was some deep shit, dedicated to those who were killed in the World Trade Center terrorist attack and their families & friends!! Dean left the stage and the band did a song called "Chinese Go-Go".
"Woe to the Conquered" was a schizoid-type of song that started with a speed-metal rock tempo (Dean was yelling the lyrics), changed into a mellow tune, and then changed into a mid-tempo rock tune, before repeating the cycle again!! The bass was heavy, the scratch guitar was funky, and the drum breakdown was fantastic during the speed-metal part!! The midtempo part also featured some funky heavy bass riffs!!
"Smile at Me" was good, but "Just For Now" was better, with some excellent singing by Dean!! The show was over at 11:15pm.


Click here for pictures of Vox Populi

<![if !supportLineBreakNewLine]>
<![endif]>
<![if !supportEmptyParas]> <![endif]>
---


Submit suggestions or comments to david.brooks@brookenstein.com