TRIBUTE TO MANDRILL (plus performance by PHUNKYMAN)
At Wingdom Festival 2007 (at the Rotunda) - Philly (8/25/07)
<![if !supportEmptyParas]> <![endif]>
---


A special artwork presentation, designed specifically for Mandrill...a tribute to about 37 years of Mandrill FUNK!!!
<![if !supportLineBreakNewLine]>
<![endif]>
At 11:50am, after Ghetto Songbird performed two songs...it was time to do a special presentation in honor of the legendary Afro-funk band MANDRILL....Ghetto Songbird and younger musicians (kids) joined in and performed a couple of Mandrill songs in front of the Wilsons Bros. (Lou, Wilfredo "Wolf" and Dr. Ric ... 4th brother Carlos couldn't make the event) and Lou's son The One Sun Lion Ra. The songs performed were "Lord of the Golden Baboon", "Fencewalk" and the chant of "Peace & Love". The music was pretty funky and the horn riffs were very good.... maybe nowhere in the range of the true horn players of Mandrill (the Wilson Bros.) but very good nonetheless! Just after 12:00 noon, Mandrill was presented with a special painting done by one of the members of Ghetto Songbird (see the picture above). After the 3 Wilson brothers gave speeches, it was time for a quick photo shoot of the Ghetto Songbird band plus the Wilson brothers (with the artwork painting on display). After The One Sun Lion Ra performed 4 rap songs, it was time to leave the Wingdom Fest for a little bit (I was planning on returning to see PHUNKYMAN do his short set). It was fun getting to hang out again with the Wilson Brothers...even, doing a one-minute video shoot with Dr. Brookenstein saying HELLO to the peeps, dressed in Bootsy persona and habadashery, baba!!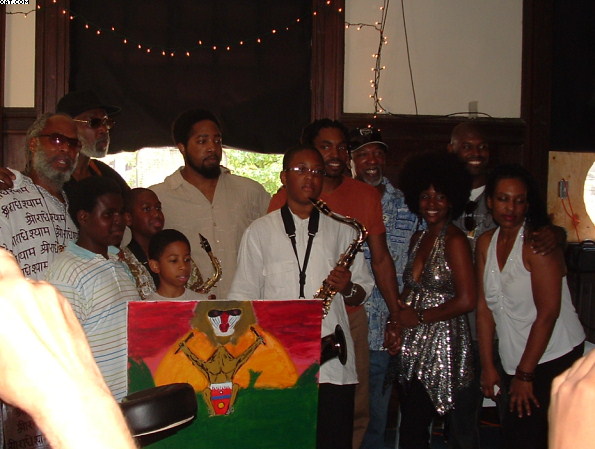 Group photo of the Wilson Bros. w/ Ghetto Songbird/Mandrill tribute members!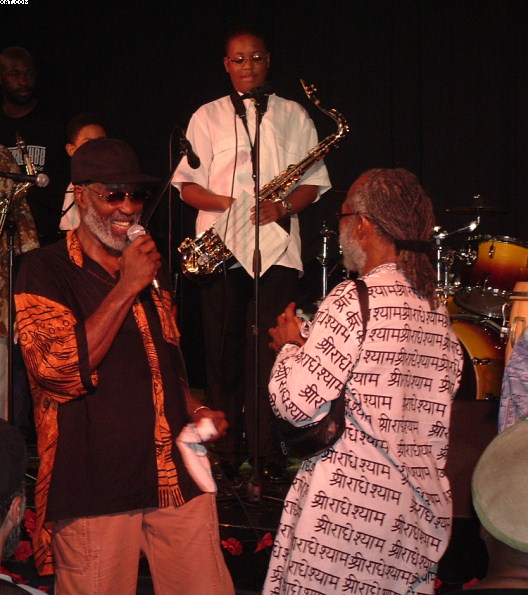 Lou & Dr. Ric Wilson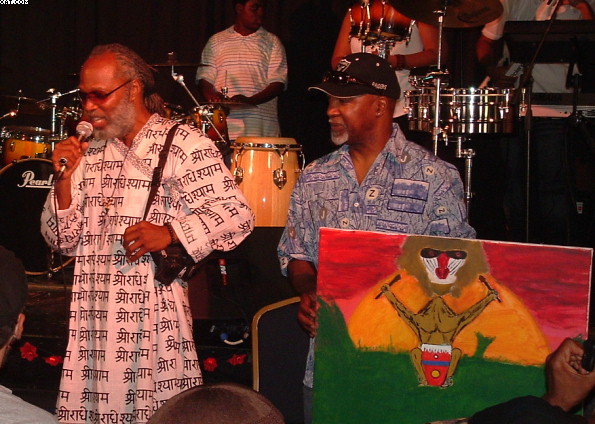 Dr. Ric & Wilfredo "Wolf" Wilson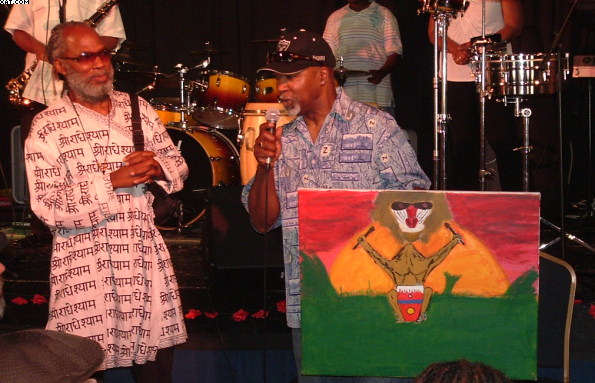 Dr. Ric & Wolf Wilson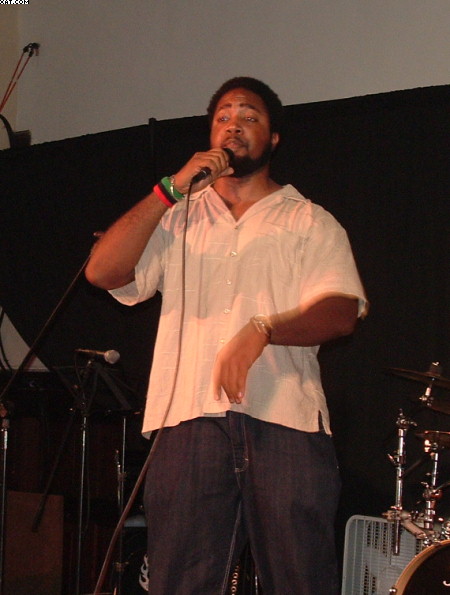 The One Sun Lion Ra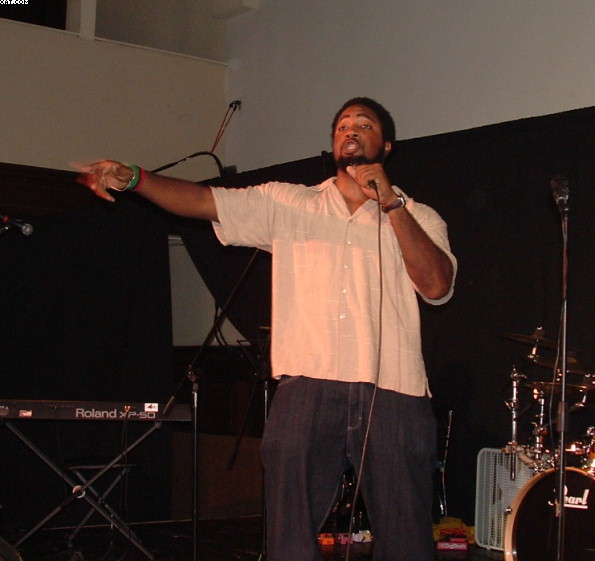 The One Sun Lion Ra


Click here for pictures of the Mandrill Tribute Band




PHUNKYMAN himself!
<![if !supportLineBreakNewLine]>
<![endif]>
At 2:55pm, I returned to the Wingdom Fest to check out PHUNKYMAN throw down hard on a 4-song set. The band started out with the FONKAY "Here Comes De Funk", featuring the hot 'n' funky lead guitar stylings of Phunkyman himself...the highlight of this short set was the enormous blast of slap-bass, thumpin' bass fonk of Warren Davis, playing "Thank You Fallentime Be Mice Elf Agin"....ENUF FUNK 4 YA RUMP, baba....people next door at the movie theater were probably in a daze of confusion, petrified...wondering "What the hell is that?!!" The funk got stronger with the funk-rock explosion of "Give Me Something I Can Use"....featuring shredding lead guitar fire by Phunkyman and the powerful drumming of "Bam Bam" himself, Andre Adams!! "(You Are) My Funky Sunshine" was good, but better was the bass-poppin', lead guitar stirring "Guitar Slinger", featuring Dora Eaton backing up her husband Phunkyman on backing vocals & percussion. At 3:20pm, it was all over.

<![if !supportLineBreakNewLine]>
<![endif]>
<![if !supportEmptyParas]> <![endif]>
---


Submit suggestions or comments to david.brooks@brookenstein.com