YOHIMBE BROTHERS (featuring Vernon Reid & DJ Logic)
At the North Star Bar - Philly (8/2/08)
---


Lead guitarist supreme, VERNON REID!!!!!!


NOTE: Pardon my review if it's a little on the "thin" side......this is the first time that I've checked out the Yohimbe Brothers and I'm not familiar with their stuff. My best description of what I heard this night was that The Yohimbe Bros. are some BAD-A** MUSICIANS who sounded like some rock, experimental & dub ALL INJECTED WITH A LARGE DOSE OF CRACK!!!!



YES, every musician in this band was splendid, especially Vernon Reid (guitar), Jared (bass) and Don McKenzie (drums). Maya Azucena sounded beautiful as lead vocalist on R&B gems like "More From Life", and she seemed to connect well with the audience. "BamaLamb" was a nice, Middle Eastern-tinged rock tune, while "Smoke & Dust" benefited the melodica stylings of Leon (think of Bernie Worrell on Funkadelic's "If You Don't Like The Effects, Don't Produce The Cause")! "Signed Fictitious" was a powerful, nasty heavy rock tune featuring the rap stylings of Gaston, the brute-force powerful drum slaying of Don McKenzie, the heavy bass rumbling of Jared, and the fiery-hot lead axe riffing of Mr. Vernon Reid! Somewhere in the middle of the set, the music of James Brown's "Popcorn With a Feeling" began playing and people in the front were jamming to the smooth-paced JB groove (thanks DJ Logic, who kept things sounding interesting with his turntable scratching and samples)! "Psychopathia Mojosexuality" was another funk-rock scorcher, featuring Vernon on ferocious lead guitarisms! The Yohimbe Brothers show started at 11:15pm and ended around 12:30am.



IF YOU HAVE A CHANCE TO CATCH THE YOHIMBE BROTHERS LIVE, BY ALL MEANS "DO SO"!!! YOU WILL NOT REGRET IT!!!!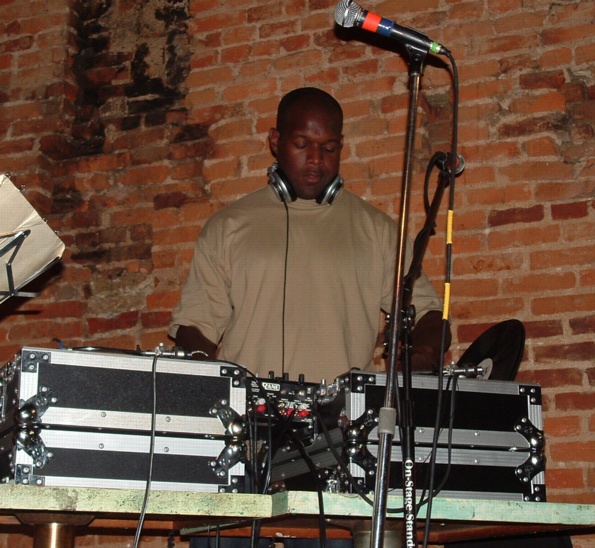 Master of the wheelz of steel, DJ LOGIC!!!!!!


SET LIST:


Invitation (to a Situation)
Shine For Me
Secret Frequency
More From Life
BamaLamb
30 Spokes
Smoke & Dust
Signed Fictitious
No Pistolas
Prelude to a Diss
Psychopathia Mojosexuality
Click here for pictures of The Yohimbe Brothers
---


Submit suggestions or comments to david.brooks@brookenstein.com